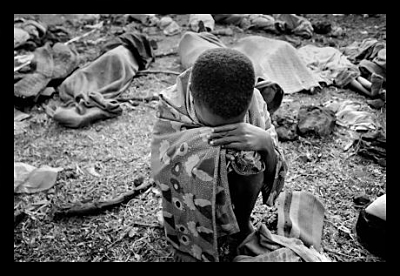 It was only twenty years ago that the now infamous "Genocide Fax" was sent, a detailed letter to the United Nations headquarters in New York explaining the brewing events leading up to the mass slaughter that we now know as the Rwandan Genocide.
The letter, sent by the then-Force Commander of the UN peacekeeping mission for Rwanda (UNAMIR), General Romeo Dallaire, explained that ethnic Hutu extremists were stockpiling weapons and distributing them to the militias. An informant had also revealed to him that "he has been ordered to register all Tutsi in Kigali" in preparation "for their extermination." These harrowing discoveries prompted Dallaire to contact UN headquarters, convinced that it was necessary to act. The final line of the letter read, 'Peux ce que veux. Allons-y,' translating to 'Where there is a will there is a way. Let's go.'
The UN however, decided against acting. Then-Head of UN Peacekeeping Operations, Kofi Annan, instructed Dallaire to essentially do nothing, as "unanticipated repercussions" could ensue.
The repercussions that Dallaire anticipated did ensue, following the tragic plane attack that killed then-President Habyarimana just three months later.
Then came the horrifying Rwandan genocide that claimed nearly one million lives in less than 100 days.
Twenty years later the nation has far surpassed anyone's expectations. Due to an onslaught of foreign aid and a revitalized Rwandan pride, the country has built itself back and shows no signs of stopping.
Under the leadership of President Paul Kagame, more than one million Rwandans have lifted themselves out of poverty and nearly all children attend school. Investment has nearly tripled since 2005 and economic opportunities abound. Malaria deaths have fallen more than 85 percent, and nine out of every 10 Rwandans claim that they "trust in the leadership of their country." The transformations that Rwanda has made are far from over, as the country aims to be a middle-income nation by 2020.
These achievements prove just how much can be accomplished in the face of adversity. The Rwandan people have lifted their country out of despair and created a beacon of hope to all of those who still suffer under the dark cloud of genocide.
Not only that, but they have taught us a valuable lesson.
We have a responsibility as human beings to protect each other from such mass atrocities. Unfortunately, the United Nations learned this in a painful way. However, they have now been at the forefront of putting a stop to genocides in countries such as Libya, Kenya and the Democratic Republic of the Congo.
Twenty years later we remember all of those who lost their lives in the Rwandan genocide, and we thank them for the valuable lesson that we now must put into practice.
– Mollie O'Brien
Sources: The Guardian, The Huffington Post
Photo: Global Solutions
https://borgenproject.org/wp-content/uploads/logo.jpg
0
0
Borgen Project
https://borgenproject.org/wp-content/uploads/logo.jpg
Borgen Project
2014-04-10 10:34:26
2019-12-11 13:21:53
Rwandan Genocide: Lessons Learned, 20 Years Later