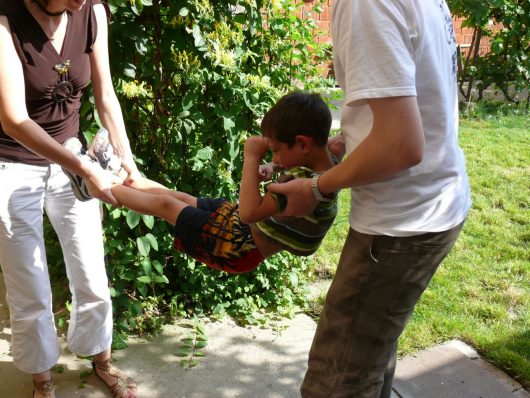 Under Nicolae Ceaușescu's rule, many Romanian orphans were neglected by their caretakers and often abused. Though Ceaușescu's rule ended in 1989, many still suffer from the effects of the old regime and can only survive by stealing, begging or prostituting themselves. However, helping orphans in Romania has become an initiative for many entities.
How AFFEO Is Helping Orphans in Romania
In April 2016, the organization A Family for Every Orphan (AFFEO) started a project to help Romania's orphans get adopted. One child they helped was a Romanian girl named Maria who suffered from a congenital skin disease. If Maria was not soon adopted, she would be sent to a special orphanage for handicapped children.
Through AFFEO's help, Maria was soon adopted by a couple named Dan and Dana. The couple has three other children as well and will be able to provide for Maria's needs through their promising careers. AFFEO presently takes donations for their project to help more Romanian orphans find new homes.
An Optometrist's Free Services to Romania's Orphans
Since 2004, Dr. Michael McQuillan (a Camarillo, California optometrist) has traveled nine times to Sibiu, Transylvania to help hundreds of Romania's orphans. In February 2017, he planned to buy a new vision screener that would allow him to treat more children during his trips. A GoFundMe page was also created to help him raise money for buying the screener and additional equipment before his next visit to Romania.
After visiting the Romanian children, Dr. McQuillan notices the reactions of children who can see correctly for the first time in their lives. "There's lots of big smiles and hugs," says Dr. McQuillan. "They thank me, and then they ask why would I leave the comfort of home and see someone like them." Dr. McQuillan's answer to that question is that a book he read, The Purpose of Divine Life by Rick Warren, inspired him to provide free optometry services to Romania's orphans.
Paws2Rescue Makes a Difference in Romanian Orphans' Lives
Founded in 2013 by Alison Standbridge, the charity Paws2Rescue has continued to help Romania's abused dogs and neglected orphans. In October 2017, Standbridge recalled how many of Romania's children arrive at their orphanages behaving like the abused dogs in public shelters. "They're scared, they shy away, they don't know how to talk and they cannot be touched," she said.
Paws2Rescue is helping orphans in Romania every Easter and Christmas. The charity is supported by TV personality Ricky Gervais, who raises awareness of Paws2Rescue through social media and donations. In October 2017, Paws2Rescue also held donations for Christmas gifts to be placed in shoeboxes. The charity planned to send them to Romania and give the gifts to orphaned children in the first week of December.
New and Safer Orphanages in Romania
Romania's children were often neglected in the country's socialist-era orphanages. In January 2018, the Robin Hood Centre (RHC) announced plans to build two family-style residences that would provide Romania's orphans with care, education, emotional support and counseling. Romania also plans to close down its socialist-era orphanages for the sake of giving children safer living conditions.
The organization Hope and Homes for Children (HHC) is helping RHC in its initiative. When HHC began its work in Romania during the 1990s, there were 105,000 orphans confined into the country's state orphanage system. "We have now brought that down to just over 7,000," said HHC's chief executive Mark Waddington in January 2018.
The age of Romania's neglected orphans is steadily coming to an end through the continuing work of these organizations, charities and individuals. Helping orphans in Romania will be an ongoing effort that could inspire the aid of other entities as well. Work will continue being done to improve the lives of Romania's orphaned children.
– Rhondjé Singh Tanwar
Photo: Flickr
https://borgenproject.org/wp-content/uploads/logo.jpg
0
0
Borgen Project
https://borgenproject.org/wp-content/uploads/logo.jpg
Borgen Project
2018-03-20 07:30:28
2019-11-04 01:15:06
Varied Organizations Helping Orphans in Romania