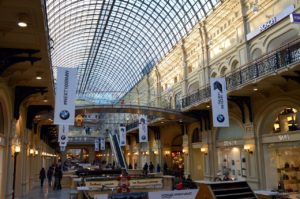 For most of Russia's history as a developing nation, foreign direct investments have taken the form of oil and land. The consumer market within Russia has remained a small part of its economy because of a consistently weak Russian currency- ruble, market volatility and consumer hesitation in purchasing durable goods such as cars and other less-liquid assets.
Russian Economy
A weakened economy and increased embargoes from the United States and other Western nations have led to the worsening of middle-class poverty in Russia. Russia's gross domestic product (GDP) fell on average 1.5 percent yearly between 2014 and 2016. GDP is a measure of the country's finished goods and services produced within its borders and sold to trade partners.
If a country's GDP is decreasing, the nation's consumers have fewer goods and services to purchase. As a result, this adversely affects the country's economy and consumer market. As of 2016, the population living below the poverty line in Russia rose to 23 percent and amounts to around 20 million people. A rebound in oil prices coupled with a growing agricultural sector has improved Russia's chance for a massive economy turnaround. Increased trade with China has also given room for economic improvements to the developing nation.
Middle-Class Poverty in Russia and Retail Market
In turn, middle-class poverty in Russia is being addressed through a revitalization of consumerism in malls and small shops across large Russian citizens such as Moscow, St. Petersburg and Saransk. A renewed interest in mass consumerism across this Eastern nation has inspired thousands of businesses to open and offer a variety of goods to consumers.
Mass production of commodity items mimics the consumerism attitude in the United States. Historically, Russian consumers have taken rubles out of the country and purchased goods and services abroad because of lower prices and an increased purchasing power. However, because Russia is producing and selling its own goods and services, consumers are remaining in the country and spending their money with Russian businesses.
As a result of increased consumerism and small to medium-sized enterprise business growth, additional Russian business owners have flooded the market with new enterprises. As of January 2019, Russia's employment rate is 59.90 percent. The developing nation has seen unemployment continuously fall as a result of improved geopolitics and business within its borders.
The Future Opportunities
Within the next 10 years, Russia's consumer market is expected to grow internally and the economy is expected to improve. Currently, Russia's economic freedom score is 58.2 on an index of 100, ranking the country globally as the 107th freest in the 2018 index. Compared to the United States, ranked at the 18th place with a score of 78.8, Russian consumers exercise a significantly lesser degree of economic freedom in their daily purchases and investments.
The Russian government intends to reverse this downward trend with increased investment in malls and shopping centers across the country. The burgeoning consumer market is one solution to alleviating middle-class poverty in Russia as it creates more jobs and opportunities for less-skilled laborers.
Additionally, Russian can begin to encourage more multinational businesses and franchises to do business within its borders. The presence of well-known global brands works cooperatively with Russia's present goals of increasing consumerism and mall traffic. Russia has a long way to go yet before it improves its global ranking as an economically free country of consumers. The present geopolitical landscape lends itself to a much-needed overhaul of economic policy within Russia.
Russia is combatting economic strife and political pressure from the rest of the world by revitalizing its consumer market. Brand development is a key success factor in this revitalization process. If the country continues to mimic the United States of America in the rebuilding of its consumer market, the middle-class poverty in Russia can potentially be eradicated and lead Russia into the new decade of economic growth and prosperity.
– Nicholas Maldarelli
Photo: Pixabay
https://borgenproject.org/wp-content/uploads/logo.jpg
0
0
Kim Thelwell
https://borgenproject.org/wp-content/uploads/logo.jpg
Kim Thelwell
2019-01-27 19:30:05
2019-11-19 13:28:12
Middle-Class Poverty in Russia Alleviated by Retail Market