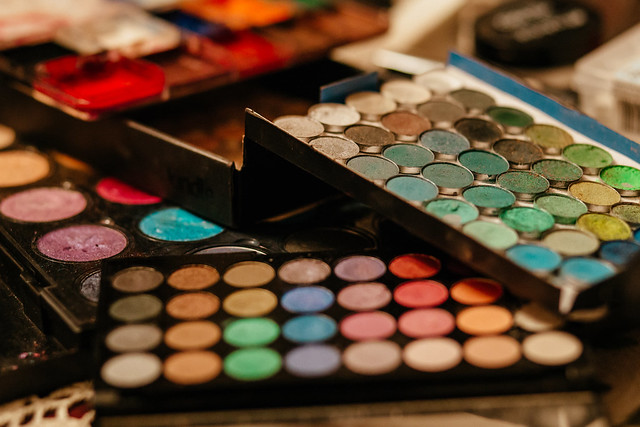 If you've ever used glittery lipstick or eyeshadow, there's a good chance the products used contained mica, a brittle, shiny mineral which creates a glittering effect in everything from makeup to paint to toothpaste. According to the Responsible Mica Initiative, there's a one in four chance that the glitter in that makeup came from an illegal mine that supported child labor.
Where does Mica come from?
Approximately 90 percent of the world's mica comes from India, particularly from region of Jharkhand where the world's largest mica deposits can be found. Despite its mineral wealth, the region is plagued by poverty and hunger. Of the 33 million people who live in Jharkhand, 13 million are living below the poverty line. This makes Jharkhand one of the poorest regions in India.
Almost half of the children there are underweight while nearly half of its children under the age of five suffer from stunted growth. In addition, illiteracy is also common. In the rural areas of Jharkhand, the percentage of women who are literate is barely more than 45 percent. Because of this poverty, child labor has become common. Having no other options, many families allow their children to find work instead of going to school.
The mica mines in the region, many of which are run by cartels, are more than willing to take advantage of this. While employing miners under the age of eighteen is illegal, it is estimated that around 20,000 children and teenagers in Jharkhand are working for mica mines. However, it's hard to say if this is the true number, given that all of these children are working for mines that do not officially exist.
The Dangers of Mica Mining
Some of these children are as young as five, and the nature of their work leaves them completely unprotected from the danger of the mines. These "ghost" mines, as the illegal mines are sometimes called, operate without any sort of safety regulations. The hollowed-out caves often collapse, frequently crushing miners or trapping them underground.
While the true number can't be found, some estimates claim that at least two to five children die in the mica mines each month. Many of these deaths are never reported because of the risk they would pose to the mica industry. One mica miner recalled the story of a woman who had fallen into the mines and died, but her death certificate claimed that the cause of death was a fall from a two-story building.
Even without that risk, other dangers include the risk of being stung by scorpions that hide under the rocks and cutting themselves. In addition, many miners end up breathing in silica dust, which can lead to silicosis, a chronic respiratory condition that leads to breathing difficulties and eventual scarring in the lungs. Many workers also run a high risk of contracting asthma or black lung disease.
To add insult to injury, miners usually receive a pittance for their work, especially underage miners. One child reported that his usual daily pay was about 50 rupees or less than $1. Worst of all, reports on illegal mica mining show that ghost mines aren't an anomaly in Jharkhand. Some claim that at least 70 percent of the region's exported mica is illegally mined.
The Solution
How will the makeup industry and makeup buyers distance themselves from the cruelty and corruption that supplies so much mica? One answer is to stop using mica or to ensure that the mica they use is ethically sourced. As the world becomes aware of the plight of the Jharkhand miners, this is what many makeup companies are doing. In January 2018, the company Lush began using synthetic mica, which is produced in a lab.
Other companies are calling for a more ethical supply chain. The Responsible Mica Initiative, an alliance formed between cosmetics companies including l'Oreal, Chanel and Estee Lauder, has the goal of eradicating child labor in mica production within the next five years. Along with their efforts to ensure that their companies only use ethically sourced mica, the Initiative is working with the Indian government and local authorities to empower communities in the Jharkhand region in hopes of cutting off the region's dependence on predatory mica mines.
Cracking Down on Illigal Mines
Meanwhile, the Indian government has been doing what they can to crack down on illegal mines. After an ongoing investigation, including the investigation of several unreported deaths in the Jharkhand region, the Indian government has begun pushing to legalize mica mining again. If more mines become legal, the logic goes, they would have to allow for accountability regarding how they treat their workers and they wouldn't be able to employ children or teenagers.
Many experts agree, however, that the key to stopping predatory illegal mines is ensuring that the people of Jharkhand do not have to depend on those mines to survive. This is what the Responsible Mica Initiative is aiming to do by empowering villages in rural Jharkhand. Its empowerment programs involve efforts to have more children enrolled in school, to educate people on alternate sources of income, to improve healthcare in villages and to strengthen local institutions.
In a region afflicted with poverty and crippled by its dependence on mica, the issue goes far deeper than simply eradicating illegal mines. However, with the persistance of makeup companies and organizations like the Responsible Mica Initiative, the region may be able to climb out of poverty and break the cycle of child exploitation that has plagued it for so long.
– Keira Charles
Photo: Flickr
https://borgenproject.org/wp-content/uploads/logo.jpg
0
0
Kim Thelwell
https://borgenproject.org/wp-content/uploads/logo.jpg
Kim Thelwell
2019-07-09 01:30:25
2019-07-07 16:48:14
Blood Mica: How Glittery Makeup Supports Child Labor