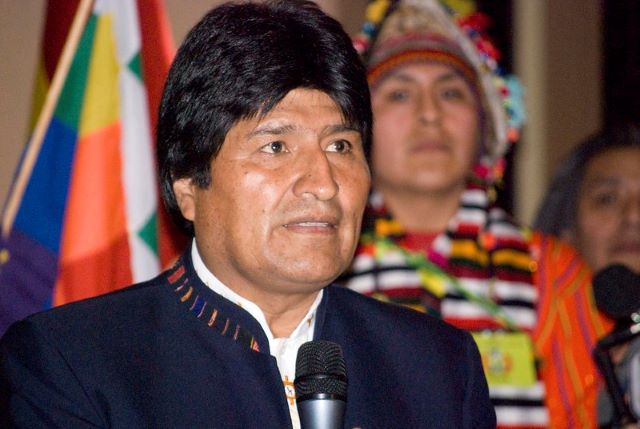 The year 2006 marked the beginning of a new era for Bolivia. For decades before, Bolivia had been run by presidents that continuously marginalized the indigenous population and favored wealthy foreign corporations, making Bolivia one of the poorest countries in South America. By 2002, the percentage of Bolivians that were living in
extreme poverty spiked to 38%
and remained stagnant until 2006. When Evo Morales became president, through programs and initiatives, Morales transformed Bolivia in several ways.
The Reign of Evo Morales in Bolivia
Evo Morales' election sparked what his government referred to as the "Process of Change", a presidency that would bring the spotlight to the marginalized workers and away from Bolivia's elites that have ruled the country for years. The campaign specifically focused on restoring the rights of the indigenous population. And after just one year of the election, Bolivia began to see huge improvements. Since 2006, the Bolivian economy has grown, on average, 5% yearly compared to the 2.8% before. Most notable, Morales was able to cut the extreme poverty rate in half, bringing it down to 17%. He also obliterated the illiteracy rate to zero. So, how was Morales able to push real progress?
Bolivia's Natural Resources
Morales set a path that focused on putting government investments in social spending. He began this project by regaining national sovereignty over Bolivia's natural resources: Lithium. For years prior, foreign corporations had been profiting from Bolivia's natural resources, raking in 85% of the profits generated by its natural gas production. After being sworn into office, Morales was able to regain nearly 80-90% of its shares. Now, the state is in full control of the sales and distribution of its raw resources. Since 2006, Bolivia has amassed $31.5 billion, which Morales allocated toward schools, hospitals and infrastructure, building about 4,500 educational facilities.
Anti-Poverty Initiatives in Bolivia
When it came to combating poverty, Morales had made many positive changes to improve Bolivia's crisis during his 14 years in office and worked to raise the standard of living for the most desperate people in the country. Under Morales' rule, the monthly minimum wage rose from 440 Bolivars to nearly 2,000, and unemployment rates dropped to under 4% from their original height of 8.5% back in 2005. There was also a sharp decline in those living in extreme poverty, shifting from 38% to just 16.8%. Overall, poverty dropped to 38.6% from the original 60.6% in 2005. Further, Morales worked to build nearly 127,000 new homes for financially insecure Bolivians without housing.
Focusing on Children and Education
Morales transformed Bolivia further by putting forth specific programs that would benefit and prevent poverty in vulnerable groups: children, mothers and the elderly. To combat low school attendance and restrict child labor, Morales put forth the Juancito Pinto program, which aimed at reaching nearly two million children. This program awards children $28 for every year of schooling they complete, encouraging them to remain engaged in their education. Before Morales taking office, the country had an illiteracy rate of 13%. However, through the use of the Juancito Pinto and the YES I CAN program, 850 thousand children became educated and Bolivia became illiteracy free in 2008.
Addressing Maternal and Infant Health
For Bolivian mothers, Morales put forth the Juana Azurduy program to end maternal and infant mortality and to reduce food shortages for children. Under the program, Bolivian mothers would receive up to $266 to go toward food, care and shelter while they raise their families, an effort that UNICEF has praised. When the program began in 2009, child malnourishment was at nearly 27% and has declined to just 16%. Child mortality has also decreased by nearly half. This program also helped to encourage women to visit medical facilities while they are pregnant and for a period after they give birth by offering cash grants to those who follow the program.
Focusing on the Elderly and Disabled
For senior citizens, Morales introduced the Renta De La Dignidad program, which focused on Bolivian citizens over the age of 60 who were not previously receiving any social assistance. This bill also gave $36 a month to disabled Bolivians as well as pregnant women and assisted them in finding jobs in the government and private sectors. The goal of this bill was ultimately to grow the income of those who were less capable of finding work and it has resulted in many Bolivian citizens who were victims of poverty increasing their yearly income to nearly $342.
The Future of Bolivia
It is evident that Morales transformed Bolivia in several positive ways. While Morales' successful 14 years have come to end, Bolivia has rebirthed Morales' principles with the recent election of Luis Arce.  Similar to Morales, Arce promises to bring justice to groups that continue to be marginalized.
– Maya Falach
Photo: Flickr
https://borgenproject.org/wp-content/uploads/logo.jpg
0
0
Jennifer Philipp
https://borgenproject.org/wp-content/uploads/logo.jpg
Jennifer Philipp
2020-02-01 01:30:49
2021-02-01 03:29:43
How Former President Morales Transformed Bolivia