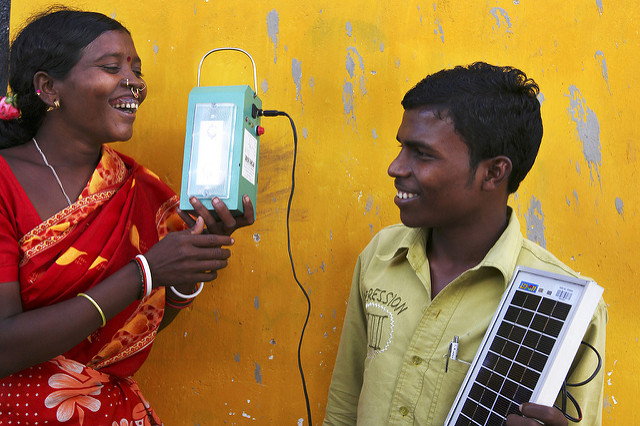 In a deserted, rocky and barren land with temperatures up to 80 and 90 degrees Celsius, millions of silver-grey solar panels glimmer in the sun. This is a start of what is said to be the biggest solar power station in the world in Pavagada, a town located in southern India. This city is where a massive solar park is set to be built and is expected to produce 2,000 megawatts of electricity, enough to power 700,000 households. This is the start of a clean-energy revolution in the renewable energy sector in India.
The Renewable Energy Sector in India
The renewable energy sector in India is now the leader in creating a new revolution in solar energy. Prime Minister Narendra Modi's government aims to achieve 100 gigawatts (GW) of solar installations by 2022, of which 40 gigawatts is expected to come from rooftop installations. This emphasizes India's commitment to the Paris Agreement and its strong will to push for solar energy generation in countries with huge potential.
Solar energy serves as a clean and affordable form of the renewable energy sector that would help India cut down its carbon emissions as well as reduce its dependency on the import of crude oil (at least to some extent).
Although India has committed to going solar, challenges still remain. Infrastructure development, technological know-how, attracting foreign investment, procuring raw materials for solar panels and a lack of access to existing storage technologies remain huge obstacles. Despite these concerns, India has taken an initiative to make solar energy the focus of clean energy.
Foreign Direct Investment in India's Solar Power
The boom in the renewable energy sector in India has attracted investors from abroad. The ambitious target of 100 GW by 2022 is tough, and to achieve this mission, India solar sector requires investment from foreign countries.
In 2015, the solar sector had secured more than $278 million through various avenues. The international business consulting firm KPMG forecasts that the market share of solar power in India would be 5.7 percent (54 GW) and 12.5 percent (166 GW) in 2020 and 2025, respectively.
Several countries look at investing in the renewable energy sector in India. In 2016, the U.S. and India partnered to launch the U.S.-India Clean Energy Finance (USICEF), an initiative to help promising distributed solar projects develop into viable investment opportunities via essential early-stage project preparation support.
Job Creation Through Renewable Energy Sector
The massive push for solar energy opened up ways of employment with hopes to reduce the poverty rate in India. In fact, 22 percent of the population or 270 million people live below the poverty line in India. Clean-energy jobs are seen as a game changer in India's rural and urban areas.
There are various positions of job profiles that have opened up due to India commitment to go solar. Jobs like installation, operations and maintenance, sales and more. Many of these jobs provide steady incomes, healthcare benefits and skill-building opportunities for unskilled and semi-skilled workers.
A report by World Resource Institute 'Can Renewable Energy Jobs Help Reduce Poverty in India?' states that in addition to improving energy security, enhancing energy access and mitigating climate change, renewable energy may be able to help reduce poverty by creating good jobs that poor people can perform.
The findings of WET report suggest that:
The majority of jobs in the sector are contractual and do not offer benefits or job stability.
Permanent jobs in the sector have the potential to reduce poverty, but they need strengthening before they become "good" jobs.
Most poor people face barriers to entry to training and the job market.
Few programs include features that help reduce poverty, such as capacity building, development of ownership opportunities or the inclusion of women.
The absence of data makes it difficult to establish connections between jobs in renewable energy and poverty reduction.
India depends heavily on fossil fuels. Energy production and consumption accounts for 58 percent of India's greenhouse gas emissions and is projected to grow exponentially in the coming decades due to a rising energy demand associated with urbanization, better living standards and economic modernization. As a result, clean energy is the main focus for the government of India in the coming years.
Commitment to Positive Change
In order to meet the commitment under Paris Agreement, India must dramatically boost solar and wind power to light up millions of houses that still lack electricity. Due to the initiatives by the government of India, India is looking at renewable energy options and acts as a home for the  largest solar plants in the world.
The government schemes and policies have contributed in transitioning from fossil fuels to clean and green energy in India, and with solar tariffs falling to a record low, new government schemes to encourage rooftop installation has put India on the map in the renewable energy sector. Being a part of this renewable energy sector has the potential to create jobs, reduce poverty and propel India into the ways of the future.
– Preethi Ravi
Photo: Flickr
https://borgenproject.org/wp-content/uploads/logo.jpg
0
0
Borgen Project
https://borgenproject.org/wp-content/uploads/logo.jpg
Borgen Project
2018-06-14 01:30:13
2019-10-12 11:32:40
India's Solar Story: The Renewable Energy Sector in India