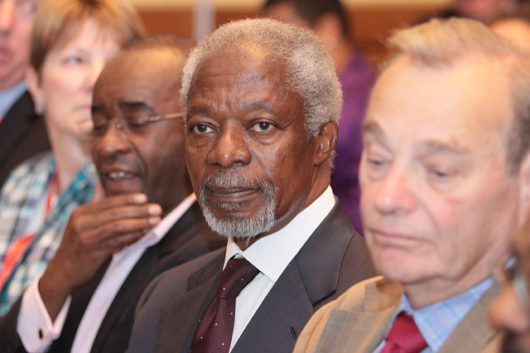 In his ten years as the Secretary-General of the United Nations, Kofi Annan was a beacon for diplomacy, peace and unity in the international community. Annan held this already highly scrutinized position in a time when global terrorism and political instability were occurring in almost every corner of the world.
As head of a United Nations' peacekeeping operation that failed to prevent genocides in Bosnia and Rwanda, Annan erroneously received personal blame and scrutiny throughout tumultuous times in his career. Yet, the manner in which he carried himself and pushed forward to fix his shortcomings, mold the institutional legitimacy of the U.N.
His work on curtailing the global poverty and human rights abuses earned him unprecedented praise from world leaders and representatives of poor and rich nations, as well as a Nobel Peace Prize in 2001.
Remembering Kofi Annan's fight against global poverty is very important since it serves as a model of the amount of commitment, patience and humanity that are needed to make a difference.
Early Years: The Birth of an Advocate
Annan was born in what is now Kumasi, Ghana, in 1938. Being that he was the grandson and nephew of Asante chiefs, rulers of his home nation of Ghana at the time, Annan's exposure to the world of politics came at an early age. His formal education also coincided with the Ghanaian independence movement that saw the nation become the first nation in Africa to gain independence from Britain.
The independence movement left many people in Ghana feeling that anything is possible. His vision of what the world could be, but most importantly, his pursuit of that vision demonstrates that he bought into this idea as well.
Millennium Development Goals
During his tenure at the United Nations, Annan was responsible for instituting some of the most pivotal developmental reforms priming the organization for the role it now holds in international affairs. Annan changed the United Nations from an institution that was once passive into the one that now promotes the norm of humanitarian intervention and advocacy. His advocacy and reforms often manifested themselves to protect those facing extreme poverty.
One of the most notable projects in Annan's fight against global poverty was the Millennium Development Goals, at the forefront of which was the goal of halving extreme poverty, defined as people living on income less than $1.25, by the year 2015.
"For many countries, it will be necessary to take concrete steps to ensure that faster and more pro-poor economic growth is achieved between now and 2015 if they are to have a real chance of meeting the 2015 target," Annan said back in 2001.
But he did not simply urge member countries to solve the problem. Rather, he presented a framework that would allow states to embed poverty reduction strategies into their plans for national development and policy. He also used his political prowess to bargain and incentivize richer nations to increase spending on development aid to 0.7 percent of their national incomes, a portion that can be described as low even today.
Annan's United Nations also pushed for innovative ways to reduce poverty, including increasing access to renewable energy. Ultimately, the Millennium Development Goals would be dubbed as the most successful anti-poverty movement in history, just barely missing out on a goal of reducing extreme poverty levels by half.
Remembering Kofi Annan's Impact on the Fight Against Poverty
Annan was a champion of world development and poverty reduction, particularly in his native continent of Africa. He was a chairman of the Africa Progress Panel after his second and final term as United Nations Secretary-General. The Panel, now subsumed by the Africa Progress Group, advocates for the equitable and sustainable development of African nations through international collaboration and engagement in global politics.
Annan helped to establish the annual Africa Progress Report that, among many things, analyzed and reported on the progress that African nations were making toward the Sustainable Development Goals.
He also founded the Kofi Annan Foundation that served as a catalyst for lasting peace and inclusive governance by anticipating looming threats security, development and human rights.
Kofi Annan's commitment to the world's poor never faltered throughout the duration of his career. As Secretary-General of the United Nations Annan faced many difficult and discouraging moments. But the spirit that emboldened Annan's vision of a more effective United Nations and a more equitable world allowed him to carry on.
Annan's fight against global poverty was immense. He showed the world what it means to be a dedicated advocate. But most importantly, he showed us that no vision is too big to be attained. Remembering Kofi Annan and his efforts in eradicating the world's poverty are very important to cherish. Annan's legacy lives on through his family, The Kofi Annan Foundation, the Africa Progress Group and the United Nations.
But it also lives on through the people that continue to dedicate themselves and their lives to the fight against global poverty.
– Isha Kakar
Photo: Flickr
https://borgenproject.org/wp-content/uploads/logo.jpg
0
0
Borgen Project
https://borgenproject.org/wp-content/uploads/logo.jpg
Borgen Project
2018-12-02 07:30:42
2019-05-21 11:56:26
Remembering Kofi Annan: A Leader in the Fight Against Global Poverty