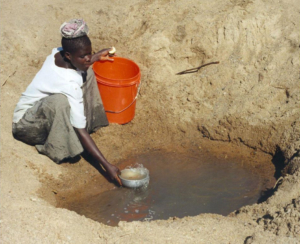 According to rehydrate.org, "One flush of your toilet uses as much water as the average person in the developing world uses for a whole day's washing, cleaning, cooking and drinking." This is the case in the second largest continent on Earth: Africa. It is home to bountiful wildlife, hot sun, and cultural life; but unfortunately, clean water and sanitation are not as boundless of a commodity. Here are 10 facts about sanitation in Africa to explain the depth of the issue.
10 Facts About Sanitation in Africa
One of the starkest of the 10 facts about sanitation in Africa is just how widespread the problem is. Of the 54 countries in Africa, 16 have less than 25 percent sanitation coverage. While statistics vary depending on the country, the bottom line is that it isn't an isolated issue. Nearly 45 percent of all people in Africa will face unclean sanitation conditions in their life.
Not only is this an uncomfortable way of life, poor sanitation is a key cause in many of the prevalent diseases in Africa. Diarrhea, cholera, dysentery and typhoid are all transmitted by unclean water and account for a large majority of infant deaths. More than 315,000 children in Africa die annually from diarrheal diseases that result from a lack of sanitation. Providing clean water and proper sanitation could reduce diarrhea by 15 to 20 percent.
A lack of clean drinking water causes more than disease. Multiple problems like swelling of the brain, seizures, kidney failure, and comas are extreme results of continuous dehydration. Additionally, daily life becomes much harder to live when basic needs like hydration are not first fulfilled. It's hard to think and perform at your best when you are constantly thirsty.
When water is available in most rural African villages, it is often in far away locations. This leaves children and women forced to walk many miles a day in order to access water. The United Nations estimates that Africa loses nearly 40 billion hours per year due to collecting water- roughly equivalent to a whole year of labor from France's entire workforce. This is time that could be dedicated to education or pursuing careers if enough clean water was easily accessible for all.
Most of Africa has yet to see a strong private sector develop for water and sanitation. Having a sturdy and ethical private sector would lead to a growth in affordable sanitation services for many people.
Many issues with poor sanitation lie in the age-old cultural practices common in rural regions of Africa. Open defecation is one of the biggest of these. Though this is largely because of a lack of toilets and waste management systems, even when these systems are put into place, people's beliefs must change with the infrastructure. Proper education and awareness is necessary to overcome sanitation habits ingrained in many people's daily routine.
Ultimately, governments of each individual African country must prioritize providing clean water and sanitation to their population for largescale progress to be made. It is encouraging to note that South Africa has made this a high priority goal and has already seen an improvement of 62 percent to 82 percent of households gaining access to improved sanitation.
Having a lack of clean water makes life physically unbearable. Finding clean water takes precious time of out people's lives. Drinking unclean water causes diseases and more physical discomfort. As a result, poverty in areas of poor sanitation remains stubborn. People cannot escape the vicious cycle of poverty without first having their basic needs met. Only when clean water becomes freely available can people in these places of Africa have enough time, energy and health to pursue a poverty-free future.
One of the greatest bright spots in 10 facts about sanitation in Africa is the Reinvent the Toilet Challenge. Created by Bill and Melinda Gates, the Reinvent the Toilet Challenge asks innovators to create affordable solutions to poor sanitation in developing countries. As a result, 20 different engineering companies created low-cost and sanitary toilets. These projects still need work being implemented on a large scale, but nevertheless they offer hugely promising results for our future world.
Along with this hopeful initiative, other improvements to sanitation in Africa have been made. Open defecation has dropped from 32 percent in 1990 to 25 percent in 2006. Additionally, between the years of 1990 and 2006, 146 million people in Africa gained access to sanitation. Finally, in 2006, 354 million of the 1.2 billion people in Africa used an improved sanitation facility.
– Hannah Stewart
Photo: Wikimedia
https://borgenproject.org/wp-content/uploads/logo.jpg
0
0
Kim Thelwell
https://borgenproject.org/wp-content/uploads/logo.jpg
Kim Thelwell
2019-11-12 08:01:58
2020-01-18 13:41:27
10 Facts About Sanitation in Africa