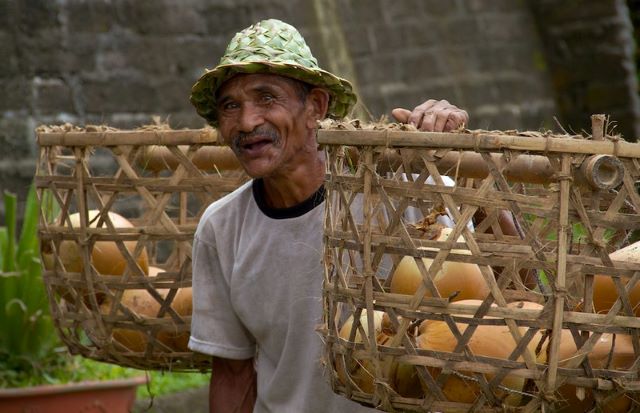 Harmless Harvest is an organic coconut brand that guarantees nonpesticide, chemical or GMO supplements in its young Nam Hom coconuts, harvested from Thailand. Known to be the first brand to introduce non-thermally pasteurized coconut water in the United States, its mission is to "create remarkable coconut products through sustainable farming practices while having a positive community impact," says Harmless Harvest CEO, Ben Mand. Utilizing organic-certified Nam Hom coconut farms, Harmless Harvest ensures growing coconuts without "persistent pesticides, synthetic fertilizers or sewage sludge."
Fair Wages for Workers
In addition to its commitment to clean practices and natural coconut products, Harmless Harvest guarantees social accountability through its Fair for Life certification. Fair for Life certification demonstrates the organization's efforts to provide fair wages for its workers in Thailand. Fair for Life advocates for financial resiliency for all its workers and reallocates funds to support communities of farmers to found mobile health clinics and provide dental checks and water filtration systems. The certification promises social responsibility and fair trade to all the people involved in the production, which starts with farmers that harvest in the very beginning to the consumers that take home the products. 
Regenerative Coconuts Agriculture Project (ReCAP)
In December 2020, Harmless Harvest announced its partnership with Deutsche Gesellschaft für Internationale Zusammenarbeit (GIZ) to introduce a new agricultural project called the Regenerative Coconuts Agriculture Project (ReCAP). This project aims to ensure a sustainable farming model with innovative coconut harvesting and the training of farmers to maximize their overall productivity. With plans to implement new regenerative farming methodology and agricultural management training for Thailand farmers, ReCAP considers many aspects of the harvesting process other than just the coconut's quality.
Sustainable Farming and Education for Farmers
The main aspect of the project is to reinvent coconut farming and produce more eco-friendly efficiency. Harmless Harvest aims to implement new sustainable coconut harvesting practices by utilizing cover crops, which then increases the soil's water absorption and reduces soil erosion during heavy rainfall. Other methods such as intercropping, bee-keeping and organic inputs were included in the coconut farm regeneration in efforts to promote clean farming.
The project also seeks to provide farmers with education in farm management and innovative agricultural practices that target longevity and resistance against climate change. By teaching farmers new strategies to increase biodiversity and resilience, sustainable coconut harvesting becomes a stepping stone to transitioning modern farming to regenerative agriculture. The brand's overall goal is to rediscover a more environmentally sustainable and resistant farming methodology while also promoting farmers' wages by the end of 2023.
Addressing Poverty Through Coconut Farming
Harmless Harvest's project ReCAP shifts the coconut industry and other farm-dependent brands away from chemical-laden monoculture crop farming, which is susceptible to climate change and is inefficient environmentally. The project alleviates ecological stress and utilizes a more efficient system of production, which corresponds with Harmless Harvest's overall mission of ethical practices. ReCAP seeks to encourage new methods of sustainable coconut harvesting and aims to increase the income of farmers by 10% or more by the end of 2023. From celebrating zero coconut waste in September 2020 to up-cycling and utilizing all parts of the coconut up to the husk, the brand continues to introduce techniques to better the planet and help farmers lift themselves out of poverty.
– Linda Chong
Photo: Flickr
https://borgenproject.org/wp-content/uploads/logo.jpg
0
0
Jennifer Philipp
https://borgenproject.org/wp-content/uploads/logo.jpg
Jennifer Philipp
2021-02-07 01:31:29
2021-02-04 03:55:24
Harmless Harvest: Sustainable Coconut Farming