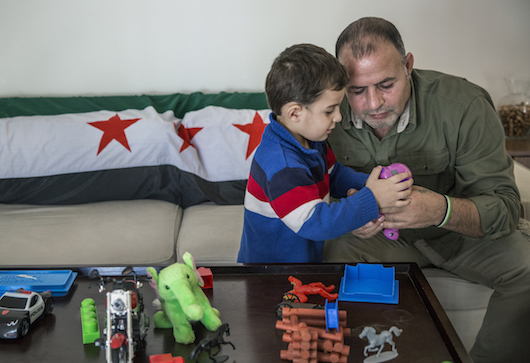 For the 500 refugees that arrive in San Antonio each year, the transition can be difficult. After fleeing violence and persecution at home, refugees face a new set of challenges when trying to settle in the United States, including language barriers, unfamiliar cultures, discrimination and unemployment. Programs helping refugees settle in the U.S. are central to facilitating a successful, new start for refugees.
Catholic Charities of the Archdiocese of San Antonio (CCOASA) offers a comprehensive program helping refugees settle and achieve economic self-sufficiency and cultural integration in San Antonio. When refugees arrive at San Antonio International Airport in central Texas, Catholic Charities volunteers are there to help.
The program begins as soon as refugees touch down. After their reception at the airport, volunteers assist refugees with housing, food, clothing and supplemental financial assistance. From there, they can receive a number of orientation courses covering topics such as American culture and laws, safety, healthcare, childcare, banking and employment.
The majority of CCOASA's work, however, continues long after arrival. In addition to offering ESL and other courses through its Refugee Services Education Program, the organization provides ongoing case management services to identify and address each refugee's unique obstacles to employment, community integration and cultural adjustment.
CCOASA's Refugee Employment Services Program helps refugees join the workforce by linking them with potential employers based on specialized skills and level of employability. The organization also works to help refugees adjust to American work culture once they are employed.
For the children of refugees, the organization offers after-school tutoring and family services to help children acclimate to the American public school system. CCOASA's School Impact Program helps 200 children per year integrate into educational life.
With support from the Department of Health and Human Services' Office of Refugee Resettlement (ORR), CCOASA is just one of the hundreds of organizations helping refugees settle in the U.S. The office partners with private organizations in major cities across the country to take on this work.
Through ORR, refugees can also take advantage of numerous federal grants in order to buy homes, start businesses, go to college and develop careers. The office even provides opportunities for refugees to take part in sustainable community farming programs.
Helping refugees settle into a new life in the United States is challenging but, luckily, there are support systems in place to make the process easier. You can find opportunities to help in your own community here.
– Ron Minard
Sources: HHS, Borgen Project, CCAOSA, Immigration Policy
Photo: Washington Post
https://borgenproject.org/wp-content/uploads/logo.jpg
0
0
Borgen Project
https://borgenproject.org/wp-content/uploads/logo.jpg
Borgen Project
2016-02-28 01:30:31
2020-06-20 10:35:56
Helping Refugees Settle in the United States