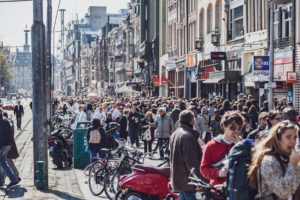 In 2018, the Netherlands' government reported that 584,000 households, or 7.9% of the general population, were subsisting on an income at or below the poverty line. In other words, they were making less than 60% of the national median disposable income. This is relatively low; the Netherlands has the fifth-lowest rate of poverty amongst the nations in the European Union, and poverty rates have been on the decline over the past several years due to economic growth and lower unemployment rates. However, refugee poverty in the Netherlands remains a major concern.
The Netherlands' Reputation
Refugees and immigrants have always been attracted to the country because of its historically high levels of tolerance. The Netherlands is also notorious for being a nation of prosperity, egalitarianism and humanitarian aid. For instance, in World War I, 900,000 Belgians sought refuge in the Netherlands, which was neutral, to escape fighting. During the Holocaust, tens of thousands of people fleeing the Nazis hid in the Netherlands until Axis powers occupied it. 

Fast forward to the 21st century, and once again, tens of thousands of people from all over the world are applying for asylum in the Netherlands each year. Although some are moving around within the European Union, many are escaping their war-torn countries of birth. In 1998, this was due to the Yugoslav wars, which kept the number of asylum seekers at high numbers until 2004. In 2015, the Syrian Civil War commenced the flow of a new wave of refugees that are still coming in high numbers today.
The Struggle for Refugee Poverty in the Netherlands
Although the country welcomes these refugees, they do not fare as well economically as their Dutch counterparts. Currently, 79% of Syrian refugees are making less than the low-income threshold, and 95% rely on income support as their main source of income. The nationality of refugees that are best off, Iranians, are still four times as likely to be living in poverty as their Dutch counterparts. In total, 53% of refugee households have a low income. 

A cycle has developed because sectors of the Dutch economy, such as agriculture and labor, depend on migrant workers. However, these jobs consistently do not pay well, and few efforts occured to increase their wages. Because refugees typically do not have schooling on par with those from the EU, they have limited job options, and they continue to struggle economically.
The One's Providing Aid
The Dutch government has done a lot to help incoming refugees. To ensure that immigrants are adjusting well to a new country, immigrants must take a national integration exam within three years of arrival. There are additional levels of support for highly educated refugees resettling in the Netherlands. The Foundation for Refugee Students (UAF) allows for better planning of "educational guidance, language training and educational courses once refugees arrive in the Netherlands." UAF provides housing for refugees in areas that are close to universities and higher education establishments, and it has recently created a mentor program that matches Dutch students with resettled refugees to provide them with support to settle into university life.

The Netherlands has been a place refugees immigrated to during many different conflicts, including the 2015 Syrian Civil War. However, an economic gap still remains between native-born Dutch citizens and refugees. In order to address this issue, the government and UAF have been working to make the transition into the country easier and positively impact refugee poverty in the Netherlands. 

– Sophie van Leeuwen
Photo: Pixabay
https://borgenproject.org/wp-content/uploads/logo.jpg
0
0
Lynsey Alexander
https://borgenproject.org/wp-content/uploads/logo.jpg
Lynsey Alexander
2020-08-07 13:30:51
2022-03-23 15:32:25
Refugee Poverty in the Netherlands