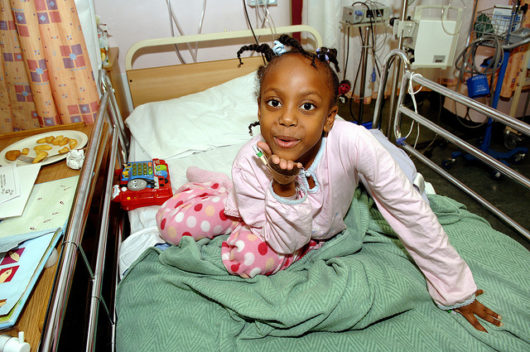 Each year pneumonia and diarrhoea kill 1.4 million children under the age of five, which is an amount greater than the deaths from all other child illnesses combined. Children in poorer nations are more likely to be victims of these illnesses, hindering long-term growth and development in these countries.
UNICEF and WHO Are Trying to Save Children's Lives
Created by UNICEF and The World Health Organization (WHO) in 2009, The Global Action Plan for Pneumonia and Diarrhoea (GAPPD) seeks to reduce the number of children affected and, ultimately, end preventable child deaths from pneumonia and diarrhoea. Progress has been slow, but over the past few years, UNICEF and WHO have increased their commitment to focus on these illnesses, hoping to significantly reduce deaths from pneumonia and diarrhoea by 2025.
Pneumonia is a respiratory infection that primarily affects the lungs and can be caused by bacteria, viruses or fungi. For those who have pneumonia, the alveoli in their lungs fill with fluid, making breathing both difficult and painful. Infants with HIV have an increased likelihood of dying after contracting pneumonia.
Diarrhoea, often caused by Rotavirus or Escherichia coli (e-coli) bacteria, is a symptom of an infection of the intestinal tract caused by viruses, bacteria or other parasitic organisms. This bacteria spreads easily through water, food or from person to person. According to UNICEF and WHO, diarrhoea causes extreme dehydration, which can lead to death. Poor sanitation and hygiene increase the risk of becoming infected.
Younger children are the most likely to die from pneumonia and diarrhoea, with 80 percent of deaths from pneumonia and 70 percent of deaths from diarrhoea occurring during the first two years of life. Additionally, over 90 percent of child deaths from pneumonia and diarrhoea occur in low income countries.
Progress Made So Far
Overall, between 2000 and 2015, significant global progress was made with diarrhoea deaths decreasing by 57 percent and pneumonia deaths decreasing by 47 percent. In spite of this progress, there is still much more that needs to be done.
South Asia and Sub-Saharan Africa are disproportionately affected, as child deaths from pneumonia and diarrhoea in these regions have been increasing. In 2000, 20 percent of pneumonia deaths and 24 percent of diarrhoea deaths occurred West and Central Africa. In 2015, however, these regions accounted for 32 percent of pneumonia deaths and 34 percent of diarrhoea deaths.
By 2025, UNICEF and WHO would like to reduce mortality from pneumonia to fewer than three per 1000 births, reduce mortality from diarrhoea to fewer than one per 1000 births and reduce the incidence of severe pneumonia and diarrhoea by 75 percent, compared to 2010 levels. Additionally, they are working towards 90 percent full-dose coverage of all relevant vaccines and at least a 50 percent increase of exclusive breastfeeding during the first six months of life.
What Steps the GAPPD Are Taking to Reach its Goals
To help meet these goals, the GAPPD uses a Protect, Prevent and Treat framework in their efforts to decrease the incidence of these infections. Protection initiatives focus on ensuring that all infants are exclusively breastfed for six months, that all children under the age of five are well nourished and that they receive vitamin A supplementation.
Prevention tactics include improving the quality of drinking water and overall sanitation, encouraging everyone to wash their hands with soap, providing vaccines (specifically for pertussis, measles, hib, PCV and rotavirus), reducing household air pollution and preventing the spread as well as treating HIV-infected and exposed children.
In order to treat children, the number of families who seek medical attention after their child has become ill due to pneumonia or diarrhoea needs to increase. Globally, only three out of every five children are seeking care for pneumonia symptoms. GAPPD hopes to provide medical centers supplies they need to be better equipped, including ORS (oral rehydration salt solution), which prevents the dehydration that occurs with diarrhoea, and oxygen, which is needed for oxygen therapy for children with severe pneumonia.
Technology to Aid in the Efforts
New innovations from the past few years have contributed to efforts to prevent child deaths from pneumonia and diarrhoea. Gravity-fed water supply schemes, which transport river water through pipes using gravity, help reduce the labor required to carry water long distances and, thereby, increase access to water. UNICEF helps communities in Afghanistan, Madagascar, Timor-Leste and Lao People's Democratic Republic operate and maintain these systems.
In order to ensure infants and young children have access to breast milk, a small feeding cup has been developed by PATH to help infants with breastfeeding difficulties get the breast milk that they need. There has also been a push for breast milk to be donated to hospitals for premature and sick babies. Brazil now has over 200 milk banks and more than 150,000 Brazilian mothers have arranged to donate their breast milk.
In 2016, the GAPPD developed a Monitoring Visualization Tool that allows them to monitor progress toward 2025 goals both globally and for specific nations. With the knowledge gained from this tool, UNICEF and WHO can more strategically coordinate their efforts
It remains to be seen whether UNICEF and WHO will achieve their 2025 goals. However, with new innovations and continuing progress, the elimination of preventable child deaths from pneumonia and diarrhoea can be achieved, hopefully in the near future.
– Sara Olk
Photo: Flickr
https://borgenproject.org/wp-content/uploads/logo.jpg
0
0
Borgen Project
https://borgenproject.org/wp-content/uploads/logo.jpg
Borgen Project
2018-11-06 06:30:47
2019-05-23 12:37:07
Global Organizations Ending Child Deaths from Diseases