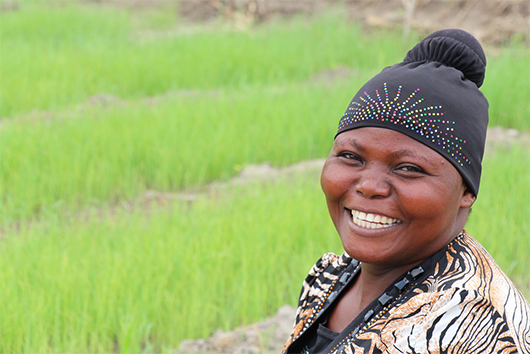 Female farmers are often less successful than males mostly due to gender inequality. Females have greater difficulties in securing land rights and accessing the necessary resources to properly run a farm. In Tanzania, for example, female farmers produce 14% less than male farmers. In Africa, almost half of all agricultural workers are women; therefore, farms across the continent are not as productive as they could be.
If women were treated equally in the agricultural sector, farm production would increase by up to 30% per day and feed 150 million more people each day, which would have the power to drastically reduce world hunger.
Undoubtedly, the mention of "reality television" procures an image of Kim, Khloé and Kourtney or that HGTV series where they renovate rundown homes, but how can reality television fit into this issue? Well, in Tanzania, "reality television" resonates most closely with the popular series starring female farmers.
About 25 million people throughout Tanzania tune into Mama Shujaa wa Chakula, or Female Food Heroes. The show focuses on female farmers sharing farming techniques, attending agriculture training sessions and learning lessons on finance. Female Food Heroes also, of course, includes competitive challenges.
The entertainment of the show comes in the form of these challenges; this season, for example, participants must create a tool, test new cooking techniques and embark on a treasure hunt. The show will shoot for three weeks in August, where a winner is selected through viewer votes and a panel of judges.
Created by Oxfam, the series seeks to empower female farmers and educate them on progressive farming techniques, while providing the stars of the show a place to demonstrate and voice their agricultural aptitude. Oxfam is an international organization dedicated to ending global poverty, composed of 17 individual organizations working together with partners and communities.
Although about 75% of farmers in Tanzania are women, gender inequality overlooks their involvement. The show, however, spotlights and praises female farmers for their contributions and actually provides the means for them to efficiently farm.
The overall winner will receive a $10,000 cash prize, but other prizes include solar panels, irrigation tools and harvesting machines. Perhaps the greatest prize of all, however, is the status and respect each contestant leaves with. Female Food Heroes provides female farmers with the opportunity to fight against global poverty and gender biases.
– Sarah Sheppard
https://borgenproject.org/wp-content/uploads/logo.jpg
0
0
Borgen Project
https://borgenproject.org/wp-content/uploads/logo.jpg
Borgen Project
2015-08-09 01:03:05
2020-07-02 16:53:00
Helping Female Farmers in Tanzania