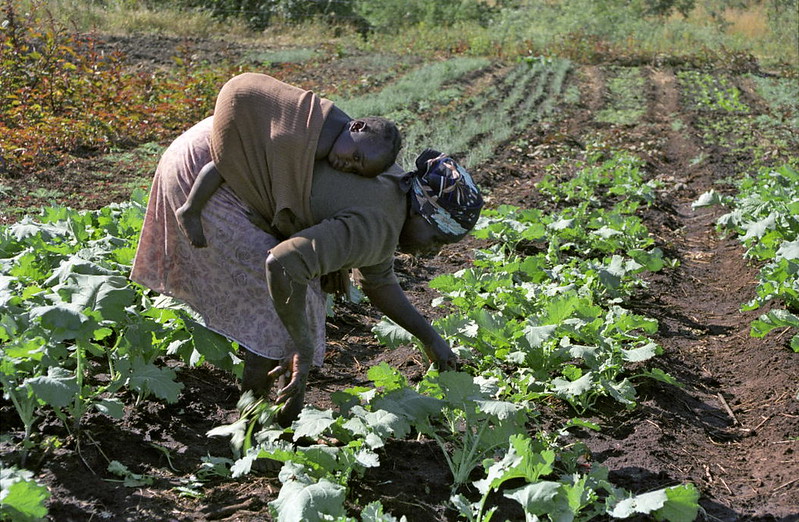 Elizabeth Mpofu's workday begins before dawn, rising at four in the morning to sweep her fields and check on her cattle. She proclaims that this quiet stretch, when it's just her and the task at hand, is her favorite part of the day. Yet, when the sun rises, the enormity of the work ahead becomes apparent. In Zimbabwe, a country where 76.3% of rural children live in poverty, a fundamental change is desperately needed. Now, Elizabeth Mpofu is transforming agriculture in Zimbabwe.
Mpofu is an organic farmer and activist. With a focus on gender equality and agroecology, she is fighting to transform the landscape of agriculture in Zimbabwe. For Mpofu, this begins with one key distinction — food security versus food sovereignty.
Food Sovereignty Versus Food Security
Agriculture in Zimbabwe is geared toward food security. According to an interview with Holding Our Ground, Voices for Food Sovereignty, Mpofu wants to change this focus to food sovereignty.
Advocates for food security aim to put food in the marketplace and on the table. However, this does not account for the quality of that sustenance, the sustainability of its production and the people's relationship with what they consume. On the other hand, food sovereignty emphasizes people's personal ownership over what they grow and eat, as well as the cultivation of sustainable, locally-grown foods. For instance, if giving a woman a fish is food security, teaching her to fish is food sovereignty.
Mpofu argues that the current state of agriculture in Zimbabwe, which places profit over all else, yields homogenous, mass-produced food that is not as nutritious as what a small-scale farmer might grow on their own land. As a result, many impoverished Zimbabweans are being fed but not nourished. According to UNICEF, nearly one in three children in Zimbabwe under the age of 5 are malnourished.
In 2007, Mpofu took the first step toward shifting her community's focus to food sovereignty when she co-founded a nonprofit, Zimbabwe Organic Smallholder Farmers' Forum (ZIMSOFF).
Planting Traditional Seeds
Among many of its functions, ZIMSOFF advocates for the use and protection of traditional seeds. The organization gave rise to the Zimbabwe Seed Sovereignty Programme, which has established seed banks, seed fairs and raises awareness of the importance of cultivating food that is native to the land. Such crops include rapoko (a type of millet), groundnuts and peanuts. These traditional crops are more drought-resistant and more suitable for the soil than those brought to the country by foreign entities.
Empowering Women
In 2002, Elizabeth Mpofu was nominated to represent Zimbabwe at the World Summit on Sustainable Development in Johannesburg, South Africa. She was hesitant, citing her inability to speak English and her self-proclaimed lack of knowledge. Now, Mpofu is the leader of Via Campesina, a coalition of 164 organizations in 73 countries. It is one of the largest coalitions of farmers in the world. Despite her ascension to the international stage, it's her work with the women of her community that she finds most rewarding.
She leads workshops where she trains women in agroecology. This is the practice of farming that maximizes crop yield in a sustainable, ecologically sound manner. Women recognize the value of their own labor, even if it is treated as insignificant compared to men's labor. Mpofu and those she trains present their case for food sovereignty to local leaders. The whole community benefits when women are empowered to make decisions.
"They, like me, stop seeing access to land as a privilege and see it instead as both a right and a responsibility," says Mpofu in the Holding Our Ground interview, about the women with whom she works alongside.
The Road Ahead
Mpofu believes that the keys to sustainable agriculture in Zimbabwe are already known. "Knowledge is not in short supply amongst farmers. What is lacking is the documentation and the spread of this knowledge," says Mpofu.
In 2020, the GDP of Zimbabwe shrunk by 8% due in large part to COVID-19. In 2021, it is set to rebound by nearly 3% as the agricultural sector recovers. The road to recovery is a long one. In the eyes of Elizabeth Mpofu, if women's empowerment and agroecology are put at the forefront, then that road will lead not just to food security, but food sovereignty for all the people of Zimbabwe.
– Greg Fortier
Photo: Flickr
https://borgenproject.org/wp-content/uploads/logo.jpg
0
0
Kim Thelwell
https://borgenproject.org/wp-content/uploads/logo.jpg
Kim Thelwell
2021-05-25 07:30:32
2021-05-21 11:30:00
How Elizabeth Mpofu is Transforming Agriculture in Zimbabwe