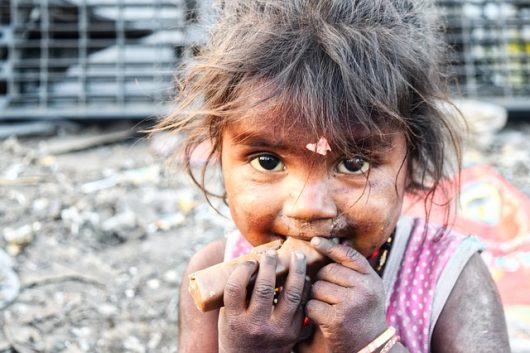 In the week of June 22, 2018, three girls died in Delhi's Mandawali area due to starvation. The eldest of the three was only 8 years old. Starvation and malnutrition in India have been an underlying epidemic for some time, and last month's incident only goes to highlight the severity of the country's problem. Fighting hunger in India is crucial for its development.
Facts About Hunger in India
India has the fastest growing economy in the world and has all the signs of a country under major improvements in the economy, produce and material production, healthcare and an increase in wealth. Despite this, poverty and hunger in India are very high, and often ignored.
The country has a staggeringly large population at 1.3 billion people. But out of that, 190.7 million people are undernourished—meaning that over 14.5 percent of India's whole population is suffering from hunger. In fact, 3,000 children throughout India die of malnutrition every day. Action Against Hunger, a nonprofit working to end world hunger, calculated that one-fourth of the entire world's population of undernourished people live in India.
Poverty and Fighting Hunger in India
Fighting hunger in India is necessary due to poverty, the rapid growth of population, exhausted governance, inadequate health systems and unreliable national indicators.
Though the country has seen a major economic progress, the poorest areas of India are comparable to the environments of some of the poorest countries around the world. Those in the more impoverished states of India, such as Rajasthan and Madhya Pradesh, see 20-35 percent of children suffer from severe undernutrition. Moreover, according to India's 2011 government data, 65 million people live in areas that lack basic facilities, which puts them under the risk of various diseases alongside hunger, which is often life-threatening.
India has, in the last decade, seen a significant increase—almost twice—in its produce and grain production. In fact, India produces a sufficient amount of food for its population but is unable to distribute and provide access to the food for most of its population, mainly women and children. This is why one out of four children in India will experience hunger which often results in malnutrition. Moreover, this insufficiency perpetuates poverty and does little—next to nothing—to rid the country of an endless cycle of poor growth and premature deaths. These premature deaths, like the three young girls who made the headlines in the summer of 2018, bring to light the severity of and the necessity for fighting hunger in India.
The Way Forward
There are a series of organizations and nonprofits who have focused their efforts on India's most solvable issue. For instance, Action Against Hunger has been instrumental in saving lives in India in the past decade by taking a hands-on, direct approach. This organization has implemented nutrition programs, worked on health systems in India with various government officials and has even worked with healthcare providers in recognizing and subsequently treating the signs of malnutrition. All of their efforts have been in India's most impoverished areas, in hopes that wealthier states take note.
Improvements have been seen and the continued efforts to fight hunger in India has resulted in lower hunger rates since 1990. There is still a very long way to go. It remains to be seen in the coming years how successful nonprofits will be in fighting hunger in India.
– Isabella Agostini
Photo: Pixabay
https://borgenproject.org/wp-content/uploads/logo.jpg
0
0
Borgen Project
https://borgenproject.org/wp-content/uploads/logo.jpg
Borgen Project
2018-09-03 18:25:47
2019-08-04 15:48:05
Fighting Hunger in India