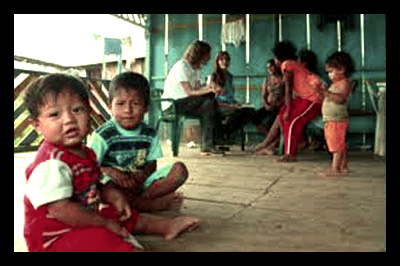 Fleeing the conflict and violence that has raged in Colombia for over 50 years, nearly 1,000 Colombian refugees cross into Northern Ecuador every year. Ecuador now hosts an estimated 160,000 refugees; 98 percent are Colombian. The government recognizes 54,000.
In 2009, 66 percent of asylum seekers who applied for protection in Ecuador were granted refugee status. It was one of the highest acceptance rates in the world. But three years have wrought significant change in policy. Though there were over 100,000 applications for asylum standing in 2012, recent restrictions have granted true refugee status to a select few.
About 60 percent of Colombians who come to Ecuador settle in poor cities. There they live with a refugee's lot – discrimination and difficulty finding employment, lack of access to healthcare and lack of government support. The remaining 40 percent are less lucky.
After crossing the Río San Miguel and the Río Putumayo, they settle in small communities on the 353-mile-long border. Isolated and characterized by an utter lack of infrastructure, these villages have little means of communicating with other communities or with their government.
Poverty spurs violence. In one UNHCR study of the Lagros Aros region, 660 of 700 women surveyed reported experiencing sexual violence in their lifetime. There is no employment, healthcare or protection. And only the residents know it.
So they fight ignorance with awareness.
Since 2009, the UNHCR and Radio Sucumbíos have reserved a 15-minute slot for a program called El Río Habla, the river speaks. Well before each broadcast, refugees meet to discuss their experiences. They identify issues requiring public attention and design the radio program accordingly.
The show is not only a cry for help. Colombian and occasionally Ecuadorian guests have a chance to tell their stories. They speak about their lives as refugees and their lives before. They talk about themselves and their families. For thousands of Radio Sucumbíos listeners, they are humanized.
The UNHCR reports no quantitative analysis of the program's effects. Still, workers and volunteers report a heightened public awareness. As public interests turn toward the disadvantaged in border communities, authorities are forced to provide services to people there.
– Olivia Kostreva
Sources: Asylum Access, UNHCR, Cultural Diplomacy
Photo: UNHCR
https://borgenproject.org/wp-content/uploads/logo.jpg
0
0
Borgen Project
https://borgenproject.org/wp-content/uploads/logo.jpg
Borgen Project
2014-06-04 04:00:16
2017-01-23 12:21:40
El Río Habla, Radio and Refugees in Ecuador