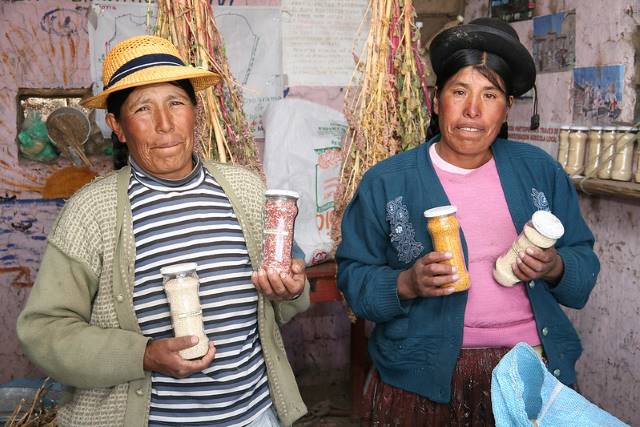 Quinoa is a species of goosefoot original to the Andes of Peru and Bolivia. For more than 6,000 years, Peruvians and Bolivians considered quinoa a sacred crop because of its resistance to high altitudes, heat, frost and aridness. Because of its sudden rise in worldwide popularity, the U.N. declared 2013 the "International Year of Quinoa" to recognize the indigenous people of the Andes, who continue to preserve quinoa for present and future generations. Quinoa supports farmers and livelihoods in Peru.
History of Peru's Quinoa
Due to its high nutritional qualities, quinoa has been grown and consumed as a staple crop by people throughout the Andean region. However, when the Spanish arrived in the late 1500s and sent farmers to gold mines in Peru and Bolivia, quinoa production declined sharply. The year 2013 marked a turning point in quinoa-producing countries. The crop surged in popularity because of its superb nutritional value, containing all eight essential amino acids. It is also low in carbohydrates but high in unsaturated fats, fiber, iron, magnesium and phosphorus. The sudden demand for Quinoa from the U.S. and Europe increased the price of the grain from $3 in 2010 to $6.75 in 2014.
The Quinoa Market Boom
Today, quinoa supports farmers in Peru, as Peru is one of the world leaders in quinoa production and exports. In 2016, Peru produced 80,000 tons of the crop, about 53.3% of the world's volume, with 47% of quinoa exports worldwide.
In 2012, Peru exported $31 million worth of quinoa. Two years later, the export value of quinoa was six times that amount, at $197 million. In 2016, however, the export value dropped to $104 million. This was reflected in the average price of quinoa worldwide. In 2012, a kilo of quinoa cost $3.15. In 2014, the price shot up to $6.74 per kilo. By 2017, however, the price had dropped dramatically to $1.66 per kilo.
The demand and price fluctuations had several negative effects, including reducing the welfare of households. When quinoa prices fell, total household food consumption decreased by 10% and wages fell by 5%.
Though traditionally grown for household consumption only, the global demand for quinoa encouraged farmers to use their fields for quinoa production only. The monocropping negatively affects the overall health of the fields, as nutrients do not get replenished as they would by rotating crops.
5 Ways Quinoa Supports Farmers in Peru
With the help of several U.N. agencies and national and local governments within Peru, a program called "Andean Grains" was implemented in Ayacucho and Puno – rural areas with high levels of poverty, where 78% of Peru's quinoa is produced, to create a value chain of quinoa production to increase the welfare of farmers. Through the program, quinoa supports farmers in Peru in several ways:
Income of rural quinoa producers increased by 22%. By focusing on producing organic quinoa and fulfilling a niche market demand, rural Peruvian farmers remain competitive in the global market. The program trained more than 2,000 producers in cooperative management and financial education and certified several farmers for organic production.
The production, promotion and consumption of Quinoa improved. By implementing technological alternatives, including establishing technical standards for producing organic fertilizer, farmers increased their crop yields, improving the food quality and nutrition of the grain and making the crop more available to local communities. In Puno alone, yields increased by 13% through the organic certification program.
More farmers joined cooperatives, increasing their market power. The program taught farmers about selecting suppliers, managing credit, how to negotiate when signing a contract and how to commercialize their organic quinoa. By standardizing the production of organic quinoa, poor farmers could negotiate better market prices under a collective brand. The cooperatives also promoted the national consumption of quinoa and helped sustainable development of the quinoa value chain.
The program empowered female farmers. Women make up 31% of agricultural producers and more than 50% of participants in the program were women. They were able to accumulate up to $4,800 through Unions of Credit and Savings, which they used to buy natural fertilizers to protect their lands from desertification.
The program participants' welfare increased. In areas of Peru where quinoa was consumed before the boom, a 10% increase in the price of the quinoa increased the welfare of the average household by 0.7%. The additional income to quinoa producers in turn allowed them to spend more. Household consumption also increased by 46%.
Quinoa supports farmers in Peru in several ways. After the implementation of the U.N. "Andean Grains" program, the income and wealth of Peruvian farmers increased. By joining cooperatives, both male and female producers compete in the global competitive market. Today, quinoa continues to be celebrated as a vital part of Peru's economy and culture.
– Charlotte Ehlers
Photo: Flickr
https://borgenproject.org/wp-content/uploads/logo.jpg
0
0
Lynsey Alexander
https://borgenproject.org/wp-content/uploads/logo.jpg
Lynsey Alexander
2021-02-11 01:30:44
2021-02-09 02:03:14
5 Ways Quinoa Supports Farmers in Peru