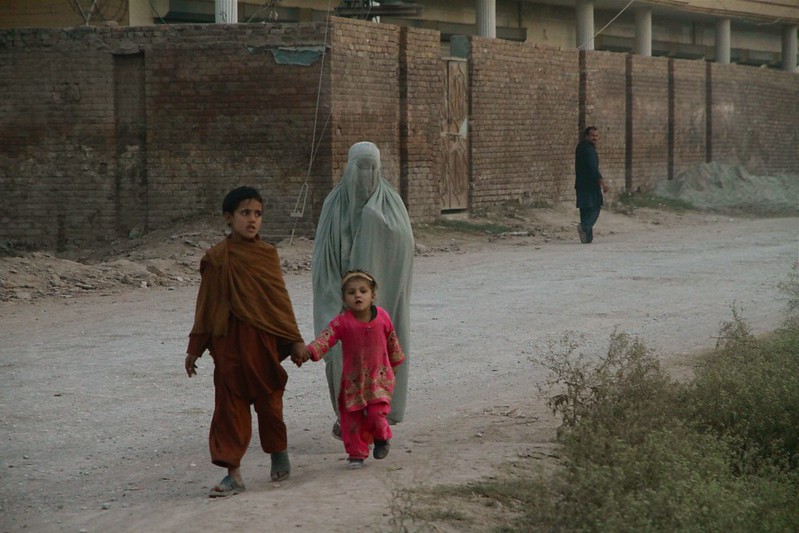 The Asian Development Bank (ADB) helps Pakistan to fight poverty by pledging  $10 billion to Pakistan over the next 5 years for the purpose of infrastructure development, with the goal of improving important economic sectors that could revitalize regional trade. Two central areas of investment for the ADB will be water resource development and transportation infrastructure. Transportation infrastructure is an especially important focus area, as it undergirds the possibility of developing trade in other sectors of Pakistan's economy. Water resource development will be crucial in continuing to sustain the agriculture sector and in ensuring that citizens have access to water. Here are some ways ADB helps Pakistan to fight poverty by addressing some major issues.
Trade and Transportation
While trade and poverty may appear to be separate, the economic growth prospects offered by expanding trade programs often spill over to effect poverty reduction. The positive gains in GDP growth result in increased capital coming into a country, which creates more opportunities for employment and access to markets. Since 2001, consistent yearly GDP growth in Pakistan, ranging from 1.7 percent to 7.5 percent has come alongside a 24.7 percent reduction in the number of Pakistanis living in extreme (less than $1.90 a day) poverty.
However, the poor transit system could have negative effects on the future of economic growth in Pakistan. Most of the nation's railway system is over 100 years old and was built during the British colonial period. This has severely hampered the possibility of ramping up trade and industrial production, as only 4 percent of commerce can be shipped via rail. This has had a while GDP growth has been consistent, the share of growth caused by trade has declined, as the service industry, at 58.6 percent of GDP and agriculture sector at 24 percent both outpace the contributions of industrial production, which has declined from 22 percent of GDP to 19.3 percent. Moreover, the ADB estimates that 2 percent of GDP is lost annually due to poor transportation infrastructure.
In response to this, the ADB has announced plans to invest in providing more locomotives, increasing the overall prospects for shipping capabilities by rail, and has also invested in updating railway lines, as well as improving north-south highways for travel via motor vehicles.
Water Resource Development
Water resource development is another way ADB helps Pakistan fight poverty. This is not to suggest that agriculture is unimportant, as in some cases, agricultural development is integral to the maintenance of local economic growth, offering a means of mitigating the worst impacts of poverty. This is especially true of Balochistan, a province that faces severe water scarcity, impacting both the living standards of the population and the local economy. Agricultural production requires massive levels of water to operate successfully, and with 60 percent of the population employed in agriculture, the impact of water scarcity on poverty is compounded by pressing economic concerns.
As a result of water scarcity in Quetta, the provincial headquarters of Balochistan, many tube-wells were installed in order to redirect water from rural areas to provide water to the urban areas. This program has produced a massive strain on the population of Balochistan, eliminating access for water for both drinking and for use in agricultural production, with poor water resource management producing a scenario in which one portion of the population is only able to access the water by depriving another.
However, the ADB is seeking to combat this water scarcity by protecting watersheds and building 276 kilometers of new irrigation channels, to support agricultural production. Watersheds will prevent soil erosion, and increase water storage capabilities in the region, while irrigation channels will assist in combating the scarcity brought on by tube-wells. Beyond its use for irrigation, these programs will also be important for developing methods of helping increase access to water in the region, which some estimate could have a profound impact on increasing women's access to water.
Conclusion
Water scarcity and poor transportation infrastructure have hindered effective economic development in Pakistan, limiting the prospects for sustainable economic growth and poverty reduction. The influx of capital offered by expanding networks for regional trade promises to offer new avenues for employment and sustainable income for Pakistanis living in poverty. Water resource management will provide new avenues for managing agricultural development, ensuring stable irrigation routes and providing overall water security.
– Alexander Sherman
Photo: Flickr
https://borgenproject.org/wp-content/uploads/logo.jpg
0
0
Kim Thelwell
https://borgenproject.org/wp-content/uploads/logo.jpg
Kim Thelwell
2019-10-01 12:22:43
2019-12-18 12:18:02
ADB Helps Pakistan to Fight Poverty