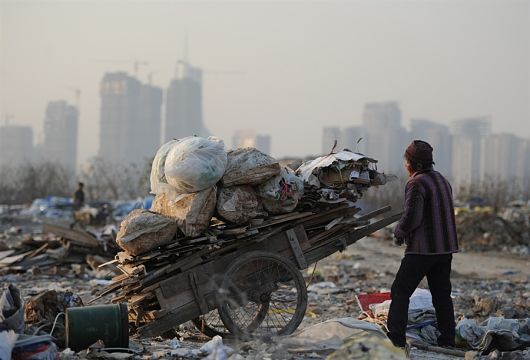 Urbanization in China experiences challenges when expanding out to rural areas and having to reclassify villagers as urban citizens. One consequence of expansion is the sale of farmers' land in order to create space for urbanized living or development.
Quanzhou's gross domestic product is about $84 billion, and the city hosts one of the lowest unemployment rates in the world at 1.22 percent. The economy is driven by textile factories, food processing plants and emerging industries such as petrochemicals and automobiles.
In 2014, protests over the urbanization and development plans through the sale of land became heated, as rows of villagers held up banners to show their dissent. The government did not negotiate with the villagers before selling their property, which forced some residents into poverty.
"The land belongs to the farmers, but the government sold it off, and the farmers haven't received any of the money," said Chen, a resident of the Xunbu village in Quanzhou.
The government's seizure of rural land resulted in violent suppression and pressure for the local villagers to comply with Beijing's actions.
While property is being sold off for the government to expand their business expenditures, there have been many successful developments and labor changes to alleviate poverty in Quanzhou. For example, improved working conditions make the city attractive to migrant workers. These workers will then be less likely to leave Quanzhou city, softening any labor shortages.
The Quanzhou Federation of Trade Unions has a new model to protect immigrant workers and benefit both workers and employers. These efforts provide individual contracts as well as collective contracts that extend their rights to neighborhood levels, such as street, village, or enterprise. Due to the success of their new model, $12.91 million in salaries have been paid to workers. This has alleviated the poverty felt by many migrant workers of Quanzhou.
With over 13,000 foreign enterprises reaching a total of $34.5 billion in investments, Quanzhou has the ability to expand and become the national center of urbanization and development that China is hoping to accomplish. As long as working conditions continue to improve and wages continue to climb, Quanzhou will be able to fill vacant positions and keep migrant workers returning. If their business model continues to succeed, Quanzhou may become the most important investment city to get the 82 million people below the poverty line out of extreme poverty.
– Donald Gering
Sources: China Daily, China Knowledge, Harvard, International Business Times, RFA, Rappler
Photo: China Mike
https://borgenproject.org/wp-content/uploads/logo.jpg
0
0
Borgen Project
https://borgenproject.org/wp-content/uploads/logo.jpg
Borgen Project
2015-07-03 08:05:13
2020-07-14 08:31:31
Poverty in Quanzhou, China