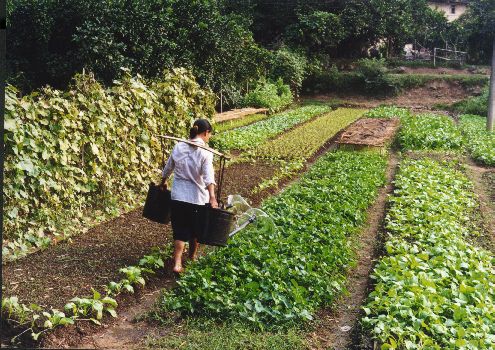 As a highly populated country, China is home to many different demographics, when it comes to income distribution. Poverty in China frequents the rural areas, where development is slower when compared with metropolitan cities. Despite the country's massive population, more than 82 million citizens are no longer impoverished. In that same vein, the poverty rate of China decreased from around 10% to just less than 2%. As a result of some technological innovations in China, the country has seen improvements in poverty rates.
Generating Synergy
An initiative done by China to reduce poverty is through increasing synergies within China's markets. By connecting public and private businesses — small and hard-earning jobs like farming can gain more income. Not only does creating partnerships with different companies increase the flow of money — but it is also helping more jobs become available for struggling citizens. Moreover, it boosts the overall productivity of each organization involved. In 2019, the cooperation between China and the E.U. made over 3 trillion yuan (nearly $450 billion), an increase of nearly 10% from the previous year. Creating synergy has benefited China's economy with new jobs and income sources — especially for low-earning workers.
Farmer Field Schools
Farmers in rural China are among the most vulnerable in the country, as they are the most impoverished. Farmer Field School is a 2019 initiative that provides educational and informative training for small farmers. These forms of training include teaching social skills and business management. Those immersed in this training reached a new profit of more than 15,000 yuan (more than $2,000). This figure represents an increase of around 105% compared with those who did not participate in the training. Farmer Field Schools have reinforced China's rural farmers' decision-making skills when it comes to agriculture. Furthermore, they have helped reduce the level of poverty seen among rural farmers by increasing their earnings with newfound knowledge.
BN Vocational School
BN Vocational School (BNVS) is an education program that is free of charge for the underprivileged youth. This organization focuses on generational poverty and how to help end it. As a vocational school, BNVS sets students up for success by equipping them with the skills they will need in their future career paths. Nearly 7,000 disadvantaged children have received education from BNVS via the 11 schools operated. BNVS helps its students escape poverty by nurturing their education to help them secure jobs in the future.
INOHERB Cosmetics
INOHERB Cosmetics is a Chinese company that specializes in herbal medicine: in particular, the Rhodiola plant. As a country that loves herbal medicine, Rhodiola became a product of high-demand — giving farmers an increased new workload. INOHERB proposed a policy that would pay farmers additional wages if they successfully grew the plant. With more than 8,000 seedlings planted and a successful survival rate of more than 80%, farmers were granted an additional 30,000 RMB (around $4,500) on top of their original income. INOHERB Cosmetic's unique approach towards alleviating poverty has benefited more than 1,200 farmers and continues to mobilize and support impoverished workers.
Innovations in China Paving the Way Forward
With proven results, China's efforts towards poverty relief has provided impoverished people with a second chance of increasing their incomes. Innovations in China have taken on distinct forms, such as educational initiatives and creating public and private business synergies. These innovational initiatives have certainly benefited the country and with a little more help and support from continued initiatives — more rural citizens can continue to do better.
– Karina Wong
Photo: Flickr
https://borgenproject.org/wp-content/uploads/logo.jpg
0
0
Kim Thelwell
https://borgenproject.org/wp-content/uploads/logo.jpg
Kim Thelwell
2020-09-18 12:11:16
2020-09-18 13:51:50
Newfound Innovations in China Reduce Poverty