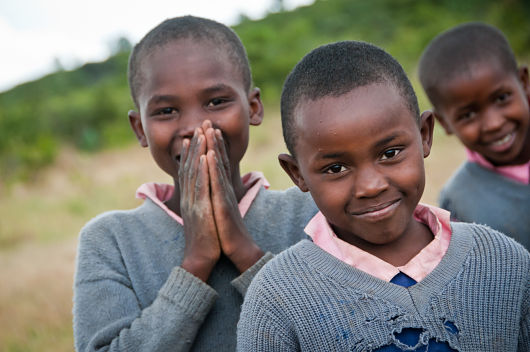 At the Millennium Summit in September 2000, world leaders came together to adopt the UN Millennium Declaration, committing to working towards eliminating global poverty. The Millennium Development Goals are time-bound, specific targets for addressing extreme poverty in many forms, such as income, hunger, disease, lack of shelter, and exclusion. Eight general goals were set forth: eradicate extreme hunger and poverty, achieve universal primary education, promote gender equality and empower women, reduce child mortality, improve maternal health, combat HIV/AIDS, malaria, and other diseases, ensure environmental sustainability, and develop a global partnership for development.
Many of the targets were intended to help the world's children. Leaders planned to reduce the under-five mortality rate by two-thirds, ensure that all children would be able to complete a full course of primary school, and eliminate gender disparity at all levels of education.
2015 is the deadline for the MDGs, and UNICEF takes a critical look at how life for children has changed since 1990 in their report "Progress for Children." Today, the chances that a child will not only survive, but enjoy a higher quality of life, have increased significantly, but there is still plenty of work to be done.
Great strides have been made in certain areas. Overall, the number of people living in extreme poverty has decreased, from 1.9 billion to one billion. Children today enjoy better nutrition, with a 41 percent decrease in stunting rates. Furthermore, they are more likely to get a primary school education, with the number of out of school children reduced from 104 million to 58 million. Four regions have also achieved gender parity at primary school level. The mortality rate for children under five has also fallen by 53 percent. Worldwide, most children born today enjoy many advantages over children born in 1990.
Sadly, these achievements have not reached every child. UNICEF states that the most marginalized and vulnerable children are still struggling in many areas. Children from the poorest households still endure many hardships. They are twice as likely to die before age 5. When it comes to education, they are less likely to achieve minimum learning standards, and poor girls are particularly disadvantaged in this area. Adolescent girls are disproportionately effect by HIV, accounting for two-thirds of all new HIV infections among adolescents. The gap in child marriage for rich and poor girls has also increased. Clearly, the work does not stop with the end of the MDGs' timeline.
The UN is currently working on a new set of goals to chart a course for future progress in fighting global poverty: the Sustainable Development Goals. While developing new targets, they must consider that the most disadvantaged children cannot be left behind again. These new goals must be set with the primary objective of helping the world's poorest children see a better future.
– Jane Harkness
https://borgenproject.org/wp-content/uploads/logo.jpg
0
0
Borgen Project
https://borgenproject.org/wp-content/uploads/logo.jpg
Borgen Project
2015-07-24 19:30:53
2020-07-06 12:33:54
UNICEF's 2015 Progress for Children Report Reflects on Successes and Challenges