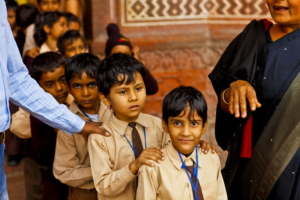 It is well known that India is a country where a high percentage of the population lives in poverty, and this factor influences different areas of human development. Particularly, the quality of teaching and access to primary education has suffered, both of which are fundamental for the country's economic and social development. However, India has made significant progress in this area in recent times, giving more children an opportunity for a brighter future.
Advancing Primary Education in India
Education is a fundamental right for children, and according to UNICEF, the period between 0 and 8 years represents the period of greatest development. In terms of education access and quality, India has made significant progress in recent years. According to enrollment data, it is estimated that eight out of 10 children aged 3 to 6 years are in an Early Childhood Care and Education (ECCE) program, with the state of Karnataka having the highest percentage (86.6%). This is mainly due to the implementation of laws made by the Indian government to strengthen the education system. These laws are the National Early Childhood Care and Education Policy (ECCE) (2013) and the Children's Rights to Free and Education Obligation (RTE) (2009), which entered into law on April 1, 2010.
Among the strategies used to improve the primary education system is the participation of UNICEF in India. This project aims to achieve three main areas of focus in educational development in the country. First, improving early childhood education by increasing enrollments. Second, a reduction in out-of-school children in nine high-concentration states. Finally, building on teaching and education quality by improving learning environments in selected states. In view of this, UNICEF's work is centered on strengthening early childhood education systems, in order to achieve inclusive and equitable development for all children aged 3 to 6 years, as well as SDG 4, Goal 4.2.
Primary Education in India as a Basic Right
Taking into account the laws and policies on early childhood education made by the government and strengthened by UNICEF, the right to education is being recognized and prioritized. In addition, this advancement is influencing other areas of children's rights, such as gender equality, protection and care and access to information. According to the Convention on the Rights of the Child, which was adopted by the General Assembly of the United Nations (UNGA) on November 20, 1989 and enforced in September 1990, articles 28 and 29 (access to education and education) affirm and declare that every child has the right to education, primary education should be free and that access to education should teach them to understand their own rights and to respect other people's rights, cultures and differences. 
It is not only UNICEF but also other organizations in India that work and defend to promote these rights, such as Humanium and Smile Foundation India.
Looking Forward
India is currently the most populous country in the world (with around 1.425 billion people) and this contributes significantly to global human development. Indeed, India is home to almost one-sixth of the world's population and children make up 25.69% of society. Investments in primary education in India help prevent child marriage, reduce poverty and improve the well-being of families and communities across the country. 
– Letícia L. Lacerda
Photo: Flickr
https://borgenproject.org/wp-content/uploads/logo.jpg
0
0
Kim Thelwell
https://borgenproject.org/wp-content/uploads/logo.jpg
Kim Thelwell
2023-06-28 01:30:50
2023-07-01 07:33:41
Making Progress: primary education in India