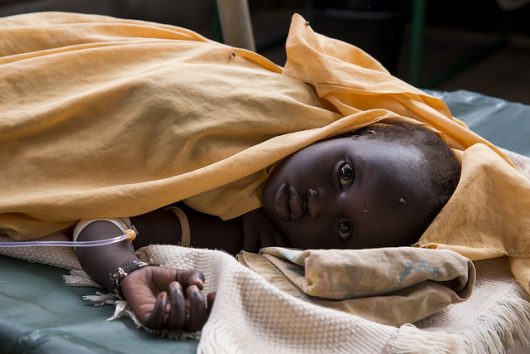 South Sudan's health system faces major challenges. These challenges stem from prolonged civil war repercussions, a great lack in medical care and vaccinations and historically long-running cholera outbreaks. Although South Sudan recently declared the end to its longest recorded cholera epidemic, cholera is endemic to the nation and will most likely return within the next few months as the rainy season begins.
However, some improvements and achievements are being made towards South Sudan's health system. Today, the preventative cholera vaccination campaign — operated by Doctors Without Borders — works to prevent the acute infectious disease from spreading across the nation any longer.
Preventative Cholera Vaccination Campaign
From April 24th to May 12th, the preventative cholera vaccination campaign has progressed in Juba – South Sudan's largest city and capital. Doctors Without Borders' campaign is designated for 12 hotspot areas in Juba where numerous people were identified as at-risk in previous cholera outbreaks. Cholera outbreaks are not new to South Sudan – the country just faced its most severe and prolonged cholera outbreak in its history which protracted from June 2016 to February 2018, and lead to over 20,000 suspected cholera cases and 436 reported deaths.
Additionally, since 2013, the nation has endured multiple cholera outbreaks that particularly target vulnerable populations living in internally displaced people's camps, urban informal settlements, cattle camps, rural populations, island dwellers and communities along the River Nile.
In order for the oral cholera vaccine to take effect, people need two doses for increased immunity. A single dose of cholera vaccine supplies some immunity for up to one year and the second dose must be ingested within eight months of the first dose to increase the level of protection and increase immunity to three to five years. Also, sustaining sanitation infrastructure and improving hygiene and water supplies, in addition to implementing vaccination campaigns, can help prevent infections by contaminated food or water, which is how cholera is spread.
Goals for Reducing Death by Cholera
In 2017, the Global Task Force on Cholera Control announced a new strategy to reduce deaths from cholera by 90 percent by 2030 in South Sudan and other affected countries. This strategy will involve strengthening case detection, prevention of avoidable cases and deaths and applying multi-sectoral interventions comprising of water and sanitation hygiene measures to eliminate cholera outbreaks in cholera transmission hotspots.
While preventative cholera vaccination campaigns aim to save lives in South Sudan, the world's newest country still deals with several other complex challenges that need to be addressed.
Current Causes and Future Improvement
Severe food insecurity and acute malnutrition, an increased demand for care due to high HIV and AIDS prevalence, a lack of resources to purchase drugs and other medical supplies due to the oil shutdown, a 73 percent illiteracy rate for adults, limited availability to crucial maternity care services and poor access to safe drinking water and adequate sanitation are all some of the current factors contributing to the country's extreme poverty.
However, with the current and essential health and medical care help from Doctors Without Borders and other international organizations such as Oxfam, CARE, WHO and Save the Children, conditions in the country could improve in the near future as more organizations find opportunities to provide aid to the country in need.
– Natalie Shaw
Photo: Flickr
https://borgenproject.org/wp-content/uploads/logo.jpg
0
0
Borgen Project
https://borgenproject.org/wp-content/uploads/logo.jpg
Borgen Project
2018-05-22 01:30:37
2019-11-18 12:25:57
A Preventive Cholera Vaccination Campaign Progresses in South Sudan