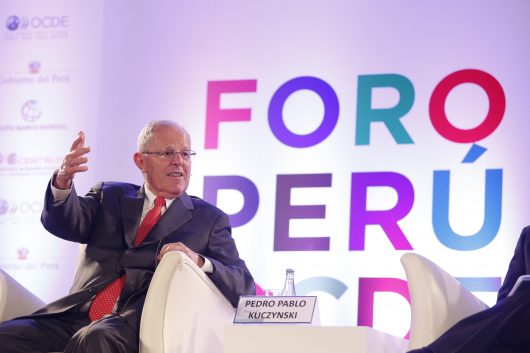 Since assuming office in July 2016, Peru's President Kuczynski has promised to modernize the economy and fight poverty in Peru. By expanding basic services and aspiring to membership in the Organization for Economic Cooperation and Development, Kuczynski hopes to leave Peru a "fairer, more equitable, and more united" nation.
During the past decade, Peru experienced a commodity boom and increase in tourism, both of which contributed to impressive economic growth. Peru's GDP and GNI per capita sharply increased over this period, and consequently, development surged.
Poverty in Peru dropped from 55.6 percent in 2005 to 22 percent in 2015. Peru has become a regional leader in education coverage, reducing dropout rates and reducing unwanted teenage pregnancy, among other indicators. The chief-economist for the Development Bank of Latin America praised Peru for consolidating its fiscal position and expanding the middle class.
Despite recent development, poverty in Peru still exists. As of 2012, 25.8 percent of the population was living below the poverty line, with nearly 5 percent living in extreme poverty.
Despite some progress in government programs aimed at helping Peru's poorest citizens, basic services and infrastructure remain insufficient in rural areas.
To combat ongoing poverty, President Kuczynski seeks to launch a "social revolution." Aimed at helping the most impoverished citizens, the new administration promises to expand access to basic services while also advancing Peru's national policies and institutional involvement. These plans build on Peru's active role in complying with the millennium development goals and show a strong commitment to the new challenge of achieving the sustainable development goals.
The main tenants of President Kuczynski's social revolution are providing safe drinking water, improving the quality of basic education, implementing universal health care, ending informal employment, fighting corruption and developing better infrastructure.
An early sign of success for the revolution is the $74.5 million joint investment between the Government of Peru and the International Fund for Agricultural Development intended to create rural employment and entrepreneurial opportunities. The targeted regions of this investment are characterized by chronic and extreme poverty and conflict.
Additionally, the Kuczynski administration seeks to institutionalize its modernization by attaining OECD membership.
Supporting President Kuczynski, Peruvian Prime Minister Fernando Zavala has expressed progressive, development-oriented policies to complement Peru's rise into OECD membership. World Bank vice president for Latin America and the Caribbean, Jorge Familiar, supports this ascent, claiming the OECD's dedication to "better policies for a better life," complements the World Bank's goals of poverty eradication and improved prosperity for all.
President Kuczynski has big plans for Peru, but the vast development across the nation in the past decade provides a promising foundation. Expanding basic services to the poorest citizens and positioning governmental affairs towards institutional advancement forecast a hopeful future for reducing poverty in Peru and realizing Kuczynski's goal of a "fairer, more equitable, and more united" nation.
– McKenna Lux
Photo: Flickr
https://borgenproject.org/wp-content/uploads/logo.jpg
0
0
Borgen Project
https://borgenproject.org/wp-content/uploads/logo.jpg
Borgen Project
2016-11-15 16:19:41
2020-05-19 20:37:16
President Kuczynski's Plans to Reduce Poverty in Peru