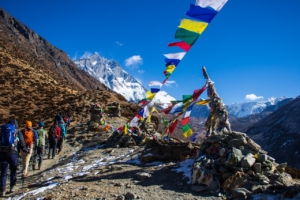 Nepal is a small country located between India and China, two of the world's most powerful nations. Substantial foreign aid is allocated to fighting poverty in Nepal. However, inefficient governments prevent these benefits from reaching the people: one-fourth of Nepalis are living in poverty. Nepal, the birthplace of the Buddha and home to Mount Everest, also has 848 bird species, 600 plant families and more than 100 ethnic groups speaking 90 languages. Despite its ineffective leadership, Nepal's lush natural environment has created a flourishing ecotourism industry providing business and conservation to the region. By fostering this market, ecotourism alleviates poverty in Nepal and improves life for thousands of the country's residents.
What is Ecotourism?
According to The International Ecotourism Society, ecotourism is defined as "responsible travel to natural areas that conserves the environment, sustains the well-being of the local people and involves interpretation and education." This definition encompasses aspects from human-environment relationships to understanding landscapes, maintaining species and learning about local cultures.
Many have debated whether zoos are a form of ecotourism or not. Despite the potential for educational value, many do not consider practices of capturing and confining wildlife as ecotourism. Wildlife should not endure any suffering from human interactions, and the interest of the animals should receive priority over humans. Ecotourism allows animals to live independently of human contact, a condition impossible to replicate in zoos.
Environmental Impact
Community-based ecotourism has been immensely successful in Nepal, especially in its rural areas. Due to sparse government regulations, the general tourism industry employs cheap yet harmful practices that have exacerbated poverty in Nepal. Thus, it has become necessary for the country to consider alternative methods of attracting revenue through tourism. With this goal in mind, Nepal has adopted the homestay model of ecotourism.
The primary goal of the homestay industry is to develop economic resilience in rural areas that can work with the environment rather than against it. This cooperation eliminates the need for large infrastructure to accommodate tourists as well as protects the environment from destruction. In a developing country like Nepal, the value of these outcomes is substantial. This system allows community members to become more involved in local tourism. Locals provide lodging, cultural education and history for compensation.
The ecotourism initiative has proven to be fruitful: of the 1.2 million tourists that visited Nepal in 2018, the majority explored natural areas. Across the country, 484 homestay houses are registered around natural sites like Chitwan National Park. These establishments also encourage the improvement of sanitation facilities like clean toilets, filtered water and pollution-free air, which are crucial to reducing poverty in Nepal.
From these homestays, tourists can travel to various nearby sites. At these sites, they can engage in activities including hiking, mountaineering, cultural immersion and rafting. These efforts propel afforestation projects and preserve biodiversity by preventing forest conversion. Community-based ecotourism has kept ancient cultures alive, protected the environment and provided economic and cultural stability to local communities.
Economic Impact
Oftentimes, people think of the environment and the economy as mutually exclusive; however, ecotourism in Nepal has challenged this mindset. Ecotourism contributes to about 4% of Nepal's total GDP and provides varying forms of employment to about 200,000 people. These opportunities are growing for people like Pratiksha Chaudhary, who runs a homestay in the village of Dalla near Bardia National Park.
The thirty-three-year-old reflects on her initially timid nature when she began hosting guests, concerned that her rooms were not clean enough or that her food was not good enough. However, after a decade in the business, Chaudhary has found confidence in herself and in her work. She can now afford home renovations and has added two bigger rooms, tiled flooring and hot water. These additions help her remain competitive in her village's ecotourism industry, which has experienced a doubling of homestays in the last decade. Through the income she earns, Chaudhary can also provide her son with quality education and protect her natural environment.
Protected areas across the country have created a substantial decrease in inequality and poverty in Nepal. Studies found increasing the number of protected areas in Village Development Committees from 10% to 70% led to increased prosperity for those villages. Additionally, protected areas with high tourism rates reduced the overall poverty rate, demonstrating that ecotourism alleviates poverty in Nepal.
The social and economic benefits of ecotourism do not stop there. In a study of homestay operators in Nepal, 83% reported feeling empowered. Additionally, 88% reported improving their lifestyle after opening their business. The local and tourist support these owners receive has also enabled them to maintain their cultural identities, adding further intrinsic benefits to the homestay field. These positive outcomes challenge the assumption that ecotourism only benefits the elite: data shows that homestays offer potential paths out of poverty for even the most remote villages in Nepal.
The Future of Ecotourism in Nepal
Ecotourism provides great potential for entrepreneurship and economic resilience that will ultimately help combat poverty in Nepal, especially for women. Qualitative data from a 2017 study shows that women tend to be more self-confident, financially independent and better educated in family decision-making when involved in homestay businesses.
Ecotourism and homestays have proven to be effective steps in boosting local economies and involving remote villages. However, establishing completely eliminating poverty in Nepal will require assistance from governments through policy. By expanding the availability of tools for conservation efforts and using ecotourism as an aid for other sectors like agritourism and transportation, the government could boost the economy and reach more people sustainably. As an industry, ecotourism alleviates poverty in Nepal and serves as a role model for developing countries pursuing similar endeavors.
– Mizla Shrestha
Photo: NeedPix
https://borgenproject.org/wp-content/uploads/logo.jpg
0
0
Jennifer Philipp
https://borgenproject.org/wp-content/uploads/logo.jpg
Jennifer Philipp
2020-10-20 20:00:13
2022-05-09 13:26:57
How Ecotourism Alleviates Poverty in Nepal