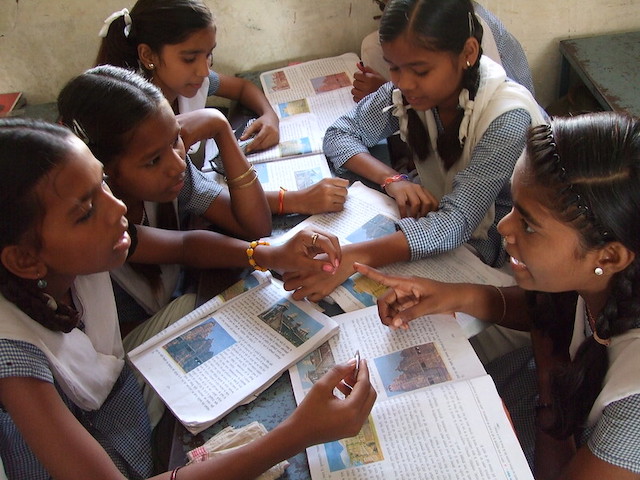 India is a country in Southern Asia that has struggled with education. In India, millions of children are at risk of illiteracy. In fact, 29% of students drop out of school before finishing elementary education. Those in poverty are less likely to receive a quality education, especially in a society like India where caste systems are still present. Impoverished children are also more likely to marry young and enter the workforce instead of completing school. Their poverty causes them to miss out on a quality education necessary to succeed in future careers. Without training or education, people are more likely to work low-paying jobs, creating a cycle of poverty for generations to come. Pratham USA in India is an organization that is committed to increasing education in India.
Pratham USA
Pratham USA is an organization that provides education to children in India, a country where many children go without learning opportunities. Pratham USA also provides job training for uneducated and underprivileged men and women. Fewer than 5 million Indian youth had access to formal job training between 2014 and 2015. In addition, at least 130 million Indian youth will enter the workforce in the next five years but many of them will not have formal job training or a full education.
Pratham USA realizes the connection between poverty and education, which is why its mission is "every child in school and learning well." The organization builds schools and sends teachers over to India to teach children and adults who would not access these learning opportunities otherwise. Pratham USA is one of the "most successful non-governmental education organizations in India." It provides training for new teachers, builds schools and education systems and has a cost-efficient system of teaching that other nations can easily replicate. At least 14 countries use Pratham's Annual Status of Education Report (ASER) to ensure children receive a quality education.
Pratham's Annual Gala
Every year in October, Pratham USA holds a gala in the U.S. state of Chicago. Borgen Project writer Seona Maskara was fortunate enough to attend the gala on October 6, 2018. Surrounded by businessmen and prominent members of the Indian-American community, Maskara learned about what Pratham's purpose is and how Pratham USA in India helps to educate disadvantaged children. At the gala, four speakers took the stage: a business supporter of Pratham USA, members of Pratham USA's teen board, the president of Pratham USA and a recipient of one of the many programs Pratham USA put in place to help educate the children and women of India.
The unnamed beneficiary of a Pratham USA program spoke about her childhood in a small village where female education is highly discouraged. She initially lived with her mother, siblings and abusive father. Her father died when she was young, leaving her family in poverty. Her family struggled to survive on 2400 rupees (about $32) a month. Her mother was uneducated and could not secure a higher-paying job, demonstrating the link between a lack of education and poverty. The beneficiary speaker saw the ties as well. As a result, she dreamed of nothing more than to complete high school. Before she could realize her dream, her house burned down. She ended up in a hospital with severe burns and was unable to finish school.
Within time, she attended a Pratham skills training camp. Afterward, she secured a job as an in-home nurse with a salary of 12,000 rupees per month — five times the amount she and her family lived off of when she was a child. With this salary, the beneficiary speaker began to live independently and provide for her mother and siblings. In this way, Pratham can change the lives of an entire family.
Pratham USA's Goal
After opening in 1995, Pratham USA's first goal was to bring education to Mumbai slums; it has since expanded. It works with both national and state governments to implement new and innovative teaching methods and opportunities to make sure every child has the chance to attend school. The organization focuses on implementing learning into the structure of the community by sending volunteers to teaching school. It also trains new teachers to make sure its legacy is long-lasting.
Examples of Pratham's innovative teaching strategies include teaching to a child's ability instead of age, creating libraries for the whole community and implementing technology strategies. To increase girls' education, Pratham implemented a Second Chance program, which allows older girls to receive a secondary education. It also has five-day-long residential camps for girls whose home life would not allow them to go to school every day. For adults who did not receive an education when they were young, Pratham also provides vocational training, lifting people out of poverty by training them for skilled jobs.
Impact in Numbers
"Pratham USA reached 8 million children" in the 2017/18 school year alone. That same year, the organization supported more than 15 million children through government-supported literacy and learning programs. Pratham USA taught an additional 900,000 children through its own learning programs. Also, in that year, 26,000 people received vocational training. Pratham educational interventions improved literacy rates by 50% with a 45% increase in number recognition. Girls' graduations increased by 30% with Pratham intervention. Graduates of vocational training also see success as they are often able to triple their monthly income up to $200 after training.
Pratham USA in India helps to advance the educational system in India, giving children access to quality education. With the work of Pratham USA and other nonprofits, India can begin to strengthen its education system. Quality education will help children lift themselves out of poverty through higher-paying, specialized jobs.
– Seona Maskara
Photo: Flickr
https://borgenproject.org/wp-content/uploads/logo.jpg
0
0
Kim Thelwell
https://borgenproject.org/wp-content/uploads/logo.jpg
Kim Thelwell
2020-12-26 11:44:55
2022-03-29 06:37:32
Pratham USA in India: Helping Children Learn