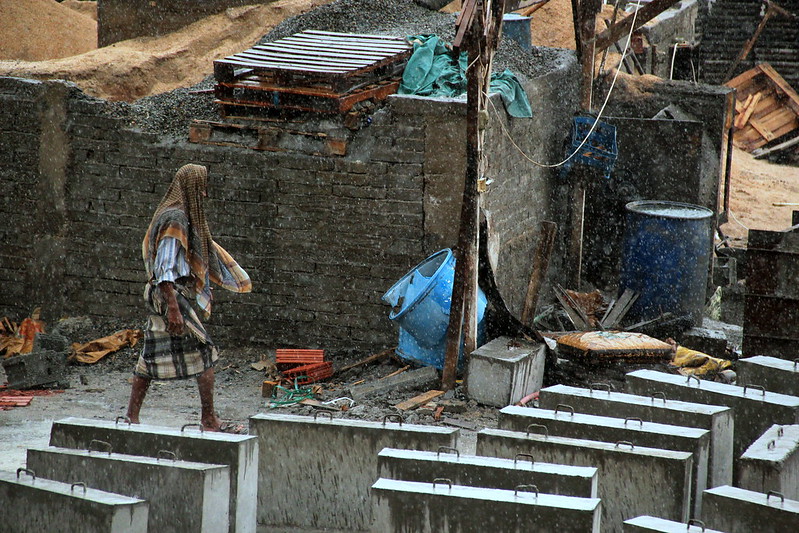 Good quality, secure housing is one of the major end goals for many societies aiming to ease global poverty and ensure the provision of basic needs amongst economically backward groups. Out of the 7.8 billion of the world's population, 150 million people are homeless and 1.6 billion lack adequate housing. In fact, India alone accounts for 1.8 million people of the world's homeless. Data shows that 78 million people in the country do not meet their needs for decent housing. Furthermore, 52% of the country's homeless live in urban areas, which emphasizes the severity of the problem. With 17% of the world's slum dwellers living in India, the government revealed that the country's slum population now exceeds the entire population of Britain. Here is some information about housing conditions in India.
Problems with Housing Conditions in India
For ages, the poorer communities in India heavily depended on mud or unburnt walls with bamboo or grass roof housing. However, these elements are not the most stable or safe building materials. According to the Population Research Bureau, nearly 110 million Indian households live in houses with mud floors and walls. This accounts for 72% of rural households. Mud walls are not the safest option in a tropical country like India, with monsoons stretching on for months. Bamboo and dried grass roofs pose a potential fire hazard, especially since most rural households depend on fire lanterns as a source of light and open fire stoves for cooking.
The Rise of Pucca Houses
Improving housing conditions of India's economically backward citizens has long been high on the Indian Government's priority list. Over the years, several governments, both state and central, have produced various housing schemes. These housing schemes aim to provide pucca houses for the poor. Pucca houses are stable houses comprising of materials such as burnt brick or cement.
Indira Awas Yojana began in 1996 and was one of the first major housing schemes with large-scale goals. The scheme aimed to provide pucca houses for people from lower castes like Scheduled Castes and Scheduled Tribes and also non-SC/STs below the poverty line. Renamed as Pradhan Mantri Awas Yojana Gramin, the scheme works on the objective of housing for all by 2022. The scheme provides a 25 square meter pucca house with basic amenities to all its beneficiaries. As of March 2020, the scheme sanctioned 14,159,830 houses to the country's poor.
Private Organizations
Additionally, many private organizations play a major role in alleviating poor housing conditions of the economically backward sections in India. Habitat for Humanity's ShelterTech Accelerator program is one such program that is providing aid to for-profit business model startups. It is also giving aid to entrepreneurs focusing on developing solutions that aid low-cost housing. The year-long program supports the selected startups by giving them access to a network of over 300 startup founders, equity-free grants and seed funds up to 7.5 million INR. Another company investing in low-cost homes for low-income households, Brick Eagle, detects the limits of how much government schemes can provide. The company aims to build houses that are priced at 5-10 lakh INR. This price makes the houses more accessible for the economically weaker sections of India.
A Better Future on the Horizon
Housing conditions in India are improving slowly, but surely. The percentage of pucca houses has risen from 55% in 2011 to 71% in 2016. Ultimately, it is safe to say that the efforts of the government and private organizations are paying off as the housing conditions slowly change for the better in India.
– Reshma Beesetty 
Photo: Flickr
https://borgenproject.org/wp-content/uploads/logo.jpg
0
0
Lynsey Alexander
https://borgenproject.org/wp-content/uploads/logo.jpg
Lynsey Alexander
2020-06-07 07:30:54
2020-06-03 10:36:31
Improving Housing Conditions in India