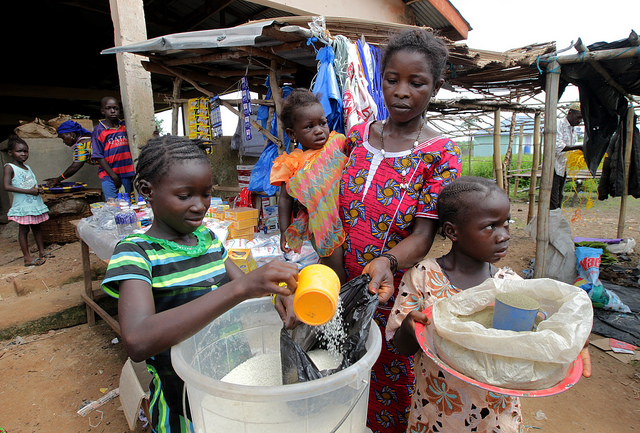 The nation of Sierra Leone is located on the western coast of Africa with a population of approximately 7,076,641. Since gaining independence from the British Empire on April 27, 1961, Sierra Leone has faced serious challenges in the social, economic and political spheres. Stemming from these challenges, the following are 10 facts about poverty in Sierra Leone.

10 Facts About Poverty in Sierra Leone
In Sierra Leone, the life expectancy is 39 years for men and 42 for women. These premature deaths are due to limited access to safe drinking water, inadequate sanitation and hygiene and food insecurity. Malnutrition also remains an important contributor to infant morbidity and mortality with 34.1 percent of children under the age of five stunted and 18.7 percent underweight due to food insecurity.
Sierra Leone has a Gender Inequality Index value of 0.662, ranking it 137 out of 146 countries in 2011. Significant gender-based inequality exists in all aspects of life including reproductive health, emotional empowerment, economic activity and governmental representation. Only 9.5 percent of adult women reach secondary or higher level education compared to 20 percent of their male counterparts.



In 2007, the government introduced three gender laws aimed at reducing gender inequality. These acts show progress but enacting and implementing practices of gender equality remain minimal. The president has also given his support to the national campaign for a minimum quota of 30 percent of women in political decision making positions, but the number remains low at only 13.2 percent.

Around 70 percent of youth are unemployed or underemployed.

The youth population, aged 15 to 35, makes up one-third of the population of Sierra Leone. This challenge was a major root cause of the outbreak of civil conflict within Sierra Leone. One of the leading reasons for these high rates of unemployment is the persistence of illiteracy and the lack of formal education to provide skills to compete for the limited jobs available.

Approximately 60 percent of Sierra Leoneans live below the national poverty line.

Remaining among the world's poorest nations, ranking 180 out of 187 countries in the Human Development Index, more than 60 percent of Sierra Leoneans live on less than $1.25 a day.

Sierra Leone has one of the world's highest maternal mortality rates, at an estimated 1,165 deaths per 100,000. According to a report released by the country's Ministry of Health and Sanitation with support from partners, the main causes of maternal deaths were largely bleeding, pregnancy-induced hypertension, infection and unsafe abortions. Almost 20 percent of maternal deaths were among teenagers 15 to 19 years of age.
Sierra Leone holds only a 41 percent adult literacy rate. Many of the schools in Sierra Leone were built shortly after gaining independence and have had little expansion since, leading to inadequate facilities. Government funding for education is extremely limited, making improvements difficult. A lack of education not only diminishes the availability of contemporarily trained skilled laborers and professionals but also negatively affects the agriculture industry where poor farming practices compound with climate change in a cycle of degradation.
Sierra Leone was ravaged from 1991 to 2002 by civil war. Civil war erupted in 1991 after a rebel group called the Revolutionary United Front attempted to overthrow the country's Joseph Momoh Government. The war lasted until 2002, by which time over 50,000 people had died and over two million had been displaced.But, even in the face of these 10 facts about poverty in Sierra Leone, peace has been fostered within the nation. Since the enactment of a U.N. Peacekeeping intervention on January 18, 2002, Sierra Leone remains firmly on the path toward further consolidation of peace, democracy and long-term sustainable development.
Sierra Leone remains heavily dependent on foreign aid.

Although positive economic growth has steadily occurred over the past decade since the end of the civil war, Sierra Leone continues to rely on foreign aid. About 50 percent of public investment programs are financed by external resources.

Recovery and development are being threatened by climate change.

Employment in agriculture remains the backbone for citizens' income in Sierra Leone. Climate change leads to low yields of critical crops and a potential annual loss of between $600 million and $1.1 billion in crop revenues by the end of the century. Resources such as water, soil and forests are being threatened by the ever-growing population, increasing energy consumption, mining activities, the pollution of rivers and massive deforestation related to agricultural practices.

A largely unchanged economic structure with low levels of productivity and major reliance on agriculture hold back further economic recovery.

Agriculture provides employment for about 75 percent of the rapidly growing population, but its continuation is threatened by unproductive farming techniques and climate degradation. The country's infrastructure remains poorly maintained and because of business climate shortcomings stemming from economic instability, there is only a small private sector to spur further economic growth.
These 10 facts about poverty in Sierra Leone are far from the whole story. The country has made tremendous strides since the cessation of conflict to establish stable governance and to facilitate peace and security. Sierra Leone should be cited as a success story in peacebuilding.
– Carolina Sherwood Bigelow
Photo: Flickr
https://borgenproject.org/wp-content/uploads/logo.jpg
0
0
Borgen Project
https://borgenproject.org/wp-content/uploads/logo.jpg
Borgen Project
2018-07-15 12:30:25
2019-10-24 13:54:50
10 Little-Known Facts About Poverty in Sierra Leone