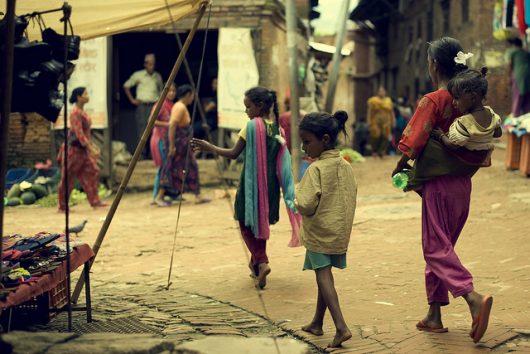 Home to the mesmerizing Mt. Everest, Nepal is located in the Himalayas, neighboring China and India. Known for its sublime mountain range that inhabits 64 percent of the total land, Nepal is populated by 31 million people and has proudly-practiced Buddhist traditions including the visit to the Swayambhunath, one of the holiest Buddhist destinations in Asia.
Although Nepal is regarded as one of the most beautiful countries in the world, 25 percent of its population lives below the poverty line. The Nepal poverty rate is the second-highest in Southeast Asia, trailing only Bangladesh.
According to a 2013 United Nations Development Program's Human Development Report, Nepal is one of the poorest countries in the world, with 30 percent of Nepalese natives living on $14 a month. Due to these circumstances, the Nepal poverty rate is ranked 157 out of 187 countries.
The report goes on to mention that the Nepal poverty rate has its highest impact in the midwestern region at 45 percent and the far-western region at 46 percent. The inhabitants of these regions have faced issues specific to poverty, including large families, very small landholdings and low literacy rates. Climate-specific issues include rugged terrain, lack of rainfall and poor soil quality.
Roughly 80 percent of Nepal's population lives in rural areas. Conditions in these areas include a lack of primary healthcare, education, safe drinking water, sanitation and other necessities. Due to this insufficient resources, poor nutrition has become a pressing issue, and half of the children under the age of five are undernourished.
There has been a significant effort to better the lives of those impacted by the Nepal poverty rate. Since 1995, the Nepal poverty rate has decreased by a wide margin, from 13.6 million people in 1995 working for $1.90 a day to four million people in 2010. Of those working for a $1.90 a day, the number has dropped from 46.1 percent in 2003 to 15 percent in 2010.
Many charity organizations have been founded in an attempt to lower the number of people who account for the Nepal poverty rate.
One of the most prosperous charity organizations that has taken action to improve the poverty rate in Nepal is World Poverty Solutions, which has successfully implemented their program in 10 communities around the Dang region. World Poverty Solutions began its work in Nepal in 2012 and has put forth a tremendous effort in providing feeding programs, orphan care and disaster relief, while serving under the desired goal to end extreme poverty in developing nations.
Unfortunately, World Poverty Solutions has faced a major setback in wake of the devastating 7.9 magnitude earthquake that killed an estimated 8,800 people. The damage that took place totaled $6.66 billion, with $5.13 billion in damages to assets and properties and $1.88 billion in loss of foreign earnings. The earthquake shattered hopes of focusing on long-term change for the Nepal poverty rate, calling focus from local churches and leaders to pursue short-term goals.
That said, the Nepal poverty rate has slowly decreased over the last couple of decades. World Poverty Solutions reports that "25 percent of the population still earns less than $1.25 per day, but that is down from 44 percent a decade ago, so the country is making strides in the right direction."
– Patrick John Greeley
Photo: Flickr
https://borgenproject.org/wp-content/uploads/logo.jpg
0
0
Kim Thelwell
https://borgenproject.org/wp-content/uploads/logo.jpg
Kim Thelwell
2017-08-21 01:30:31
2020-06-18 08:53:58
Environmental Factors Affect Nepal Poverty Rate