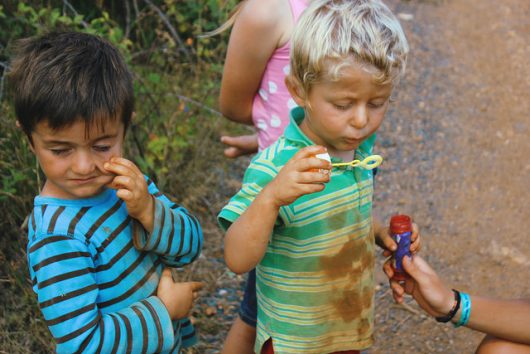 Albania is a country located on the Balkan Peninsula with a large coastline facing the Adriatic Sea. The country has a Muslim majority due to the continued influence of the Ottoman Empire, which controlled the country for centuries. After World War II, Albania became a communist state. It was only in 1990 that the country became a democratic country. Although this shift was beneficial for human rights in the country, the dramatic change has negatively impacted the poverty rate in Albania.
When Albania shifted from a communist country to a democratic one, the GDP of the country saw a sharp decline. Between the years 1990 and 1992, the country's GDP dropped from $2.1 billion to $709 million. In recent years, the GDP has been growing at around three percent per year, and, in 2013, the GDP growth was measured to be 3.5 percent.
This dramatic shift in GDP caused many living in the country during the communist rule to leave the country for more prosperous European states. The dramatic change in GDP also caused the poverty rate in Albania to increase.
The last time the incidence of poverty had been measured was in 2012, and at that time 14.3 percent of the population was living under conditions of extreme poverty. This change was a vast improvement to the 25.4 percent of people living in poverty in 2002. However, Albania has seen a recent increase in its poverty rate at the beginning of the 2010s. Many of these people tend to live in the mountainous regions, where economic investment does not make sense to many businesses.
Many who explore the country see the nation's beautiful scenery and natural beauty. However, many people visiting fail to see the hidden poverty in the nation. Many citizens who live in the mountainous regions of the country struggle to put food on their tables every day and the towns they live in lack thriving businesses to create economic activity.
There is hope for the people struggling with the high poverty rate in Albania, despite its recent increases. World Vision is a nongovernmental organization working within the nation to help the most vulnerable of people in Albania. The organization strives to provide sponsorship opportunities, educational outlets, healthcare and economic development in the towns most affected by the shift to a democratically led government. This work done by World Vision, as well as the rising GDP in Albania, is likely to help keep the poverty rate in Albania from rising any further.
– Nick Beauchamp
Photo: Flickr
https://borgenproject.org/wp-content/uploads/logo.jpg
0
0
Borgen Project
https://borgenproject.org/wp-content/uploads/logo.jpg
Borgen Project
2017-08-30 01:30:17
2020-06-25 10:13:00
Working to Lower the Increasing Poverty Rate in Albania