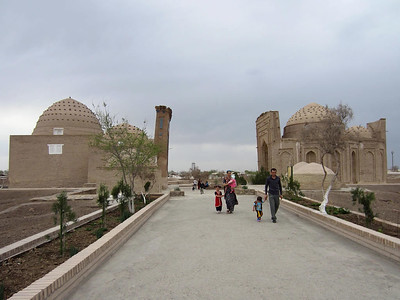 Turkmenistan is a country in the Central Asian region with a population of more than 5.6 million and a coastline along the Caspian Sea between Kazakhstan to the north and Iran to the south. Prior to gaining independence in 1991, Turkmenistan was a Soviet republic.
The country is well-endowed with energy reserves including natural gas and oil, and its economy is highly dependent on energy production and exports. In addition, Turkmenistan is rich in cotton, another highly exported commodity. Although 48.2% of the country's labor force works in agriculture, this sector represents only about 8% of its GDP. Turkmenistan, moreover, continues to grapple with substantial barriers to economic and political progress, subjecting many of its citizens to poverty and other sources of hardship. Here is some information about poverty in Turkmenistan.
4 Facts About Poverty in Turkmenistan
 Turkmenistan has made significant progress when it comes to poverty reduction. In 1999, an estimated 58% of the population in Turkmenistan was living in poverty compared to 0.2% in 2012. GDP per capita witnessed a similar kind of improvement over the same period. In 1999, GDP per capita in Turkmenistan was only $1,800. That figure increased to $8,900 in 2012, and in 2017, it reached $18,200, earning the country a rank of 97th highest GDP per capita in the world.
Reports have stated that Turkmenistan possesses the world's fourth-largest reserves of natural gas. However, its heavy reliance on energy exports exposes its economy to sizeable vulnerabilities, including fluctuations in the energy prices. High energy prices in the last decade enabled sensible progress in the form of utility subsidies on the part of the Turkman government since 2014. However, the country's GDP growth rate has declined to 10.3%, as a result of low energy prices, in 2014 from 14.7% in 2011. In 2015, its GDP growth rate further declined to 6.5%. These setbacks have resulted in cutbacks on government subsidies and infrastructure spending.
 The country's first political leader, Niyazov, died in 2006 and Berdimuhamedow, who continues to be president today, succeeded him. The reign of Niyazov led to the suppression of political dissent and tightly limited freedom of movement and travel. Moreover, in 2004 and 2005, Turkmenistan's development experienced a significant hindrance when the government cut one year off of secondary school requirements, replaced 15,000 health care professionals with military conscripts and closed all regional hospitals. Political repression and limited civil freedoms continued under Berdimuhamedow. With a transparency index of 154 among 176 countries, corruption on all levels of government has also been a major obstacle to development in Turkmenistan, limiting its potential for foreign investment opportunities.
 The state has heavily regulated Turkmenistan's economy. In fact, the state controls an estimated 90% of agricultural production. People also report long waiting queues throughout grocery stores that the state owns or controls. Since Turkmenistan has subsidized food items like bread and considering that Turkmen farmers cannot grow unauthorized products, the country's economy is far from efficient or self-sufficient. Government control over the foreign exchange rate, thus restricting the private sector's ability to import the foodstuffs necessary to sustain the population, has further exacerbated this fact.
Looking Ahead
While official estimates for poverty in Turkmenistan are low, at 0.2%, there are several drawbacks that the country faces in regard to both its economy and its social and political standing. These range from the need to diversify its economic model from its heavy reliance on energy export revenues to the promotion of a more free business and investment climate. In the meantime, international cooperation and coordination ought to strive to ensure that the recent food shortages in Turkmenistan do not escalate into a full-fledged hunger crisis.
– Oumaima Jaayfer
Photo: Flickr
https://borgenproject.org/wp-content/uploads/logo.jpg
0
0
Kim Thelwell
https://borgenproject.org/wp-content/uploads/logo.jpg
Kim Thelwell
2020-08-15 01:30:57
2022-04-07 10:06:15
4 Facts about Poverty in Turkmenistan