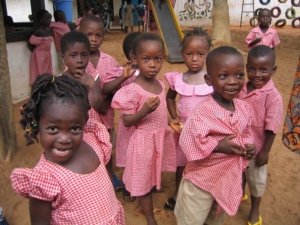 Neglected Tropical Diseases (NTDs) tend to prosper in underserved regions, where water quality, sanitation and access to health services are inadequate. NTDs mostly affect the poor and excessively women and children. In Togo, NTDs affect all 40 districts, and about 6 million people have been at risk of contracting at least one illness.
Efforts to Eliminate Neglected Tropical Diseases in Togo
Togo eradicated four diseases within 11 years; from 2011 to 2022. It eliminated dracunculiasis (guinea worm disease) in 2011, elephantiasis (lymphatic filariasis) in 2017, human African trypanosomiasis (sleeping sickness) in 2020 and trachoma in May 2022. The Togolese Ministry of Health has been working with Health and Development International and USAID to end these diseases. Effective measures included:
Mass drug administration (MDA) via door-to-door drug distribution,
Building awareness about NTDs and treatment via village criers or religious leaders,
Training health care workers; and
Ensuring adequate drug supply
Additionally, many partnerships and funding have contributed to the success of Togo's control and elimination of these NTDs. USAID has provided funding for more than nine years through Health & Development International (HDI) and assistance from Family Health International (FHI360). Some other donors are the Liverpool School of Tropical Medicine, Mectizan Donation Program, Sightsavers, The Task Force for Global Health, UNICEF and WHO. The U.S. also provides additional support by enacting a bill called "End Neglected Tropical Diseases Act," in 2019. This piece of legislation ensures further aid and research efforts to End NTDs in the most vulnerable places across the globe.
Positive Impact on Poverty Reduction
The elimination of these four NTDs indicates significant progress toward healthier life not only for the Togolese but for the poor in the world. Most of NTDs involve considerable suffering and disability. They prevent children from going to school and adults from being able to work. Then the cycle of poverty never ends.
For example, guinea worm disease which usually causes pain and blisters in people's legs has a long recovery period after surgery. Lymphatic filariasis is a parasitic infection, transmitted via bites of an infected mosquito. It affects human lymphatic vessels and causes severe swelling of arms, legs and scrotum. This makes a person unable to ambulate or join church due to disfigurement. If someone is infected with trachoma, they are at risk for vision loss. Repeated infection can severely scar the inside of the eyelid and result in constant pain and light intolerance. If people do not receive treatment, it leads to blindness. Now, the poor, including the Togolese, have more hope to live without going through the pain, stigma, social isolation and disability caused by these diseases.
Final Thoughts
It is exciting that Togo becomes the first country in the world to eliminate four Neglected Tropical Diseases (NTDs). This achievement not only improves the well-being of citizens across the country but also lightens the burden on public health. Still, there are other NTDs that pose significant health risks in Togo and other low-income countries. A few of the diseases are onchocerciasis (river blindness), schistosomiasis and soil-transmitted helminthiasis. Hopefully, with Togo's continued effort to tackle NTDS, coupled with support from international agencies like USAID, these diseases can also be eliminated sooner rather than later.
– Naomi Kang
Photo: Flickr
https://borgenproject.org/wp-content/uploads/logo.jpg
0
0
Jennifer Philipp
https://borgenproject.org/wp-content/uploads/logo.jpg
Jennifer Philipp
2022-12-03 11:36:26
2022-12-05 05:53:52
4 Neglected Tropical Diseases Eliminated in Togo