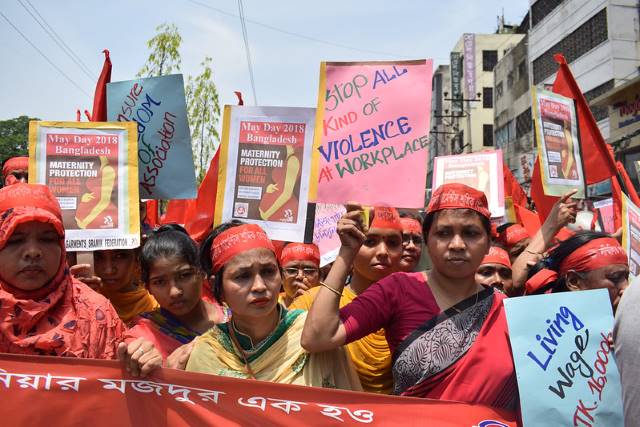 Fashion as a feminist movement is a powerful force to lift women out of poverty. Brands that provide their female garment workers a living wage empower them to lead a dignified life. Fashion consumers advocate for women's rights based on the equality of the sexes through ethically produced clothing. Consumer brand choices have the power to uplift ethical brands that support labor sustainability and female garment workers experiencing oppression. Considering these facts, poverty in the fashion industry is a feminist issue.
The Feminist Movement
The feminist movement means supporting women all over the globe. The fashion industry is part of the feminist movement because it is a female-dominated industry. According to Labour Behind the Label, 80% of garment workers worldwide are women. They produce the t-shirts with feminist quotes found in stores all over the globe. However, in 2019, Oxfam reported that 1% of Vietnamese garment workers and 0% of Bangladeshi garment workers earned a living wage. In 2019, the Spice Girls' #IWannaBeASpiceGirl t-shirts sold for Comic Relief's "gender justice" campaign were made by underpaid female Bangladeshi garment workers. These workers earned 35p an hour during 54-hour workweeks amounting to 8,800 takas — well below the living wage estimate of 16,000 takas. Furthermore, the workers were exposed to harassment and abuse. The business practices of fast fashion brands highlight the imbalance between the feminist movement, consumer actions and the grim reality of garment workers.
The Feminist Movement and Fast Fashion
Fashion brands are a powerful force in ending cycles of poverty. But, fast fashion prioritizes the fast production of cheap clothing made by overworked and underpaid garment workers. According to the Clean Clothes Campaign, it is typical for a garment worker to work 96-hour workweeks for seven days a week, ranging from 10-18 hours a day. On average, the wages paid are two to five times less than what is needed for a worker and her family to live above the poverty line. The Juniper Research study predicts that online shopping fueled by COVID-19 will increase fashion sales to $4.4 trillion by 2025. Top fashion CEOs earn in four days what garment workers spend their whole life trying to make. The unfortunate truth is that fast fashion has made the richest men in the world at the expense of the most vulnerable women.
Poverty in the Fashion Industry
In 2017, the Deloitte Access Economics report for Oxfam Australia reported that paying garment workers a living wage would only increase the retail price of clothing by 1%. In other words, a living wage and fair working conditions are reasonable consumer expectations. Researchers from the University of New South Wales and the University of Queensland also reported that increasing the cost of clothing by 20 cents would allow Indian garment workers to earn a living wage. By investing more in clothing production, brands and consumers can support the global development of garment workers. This will allow workers and their families to invest in education, healthcare and their local community.
Ethical Fashion
Garment workers employed at ethical brands are paid a living wage, have safe working conditions and are treated fairly. On the other hand, fast fashion workers face gender discrimination through mandatory pregnancy tests, abuse and sexual harassment. Fashion as a feminist movement has the power to address the main human rights abuse in the industry — the non-payment of a living wage.
Female empowerment is a catalyst for prosperity. The United Nations reports that investing in the education of girls and women helps global transformation. It contributes to economic growth, reduces poverty through increased productivity and improves health outcomes. Studies have shown that providing basic education to girls until adulthood enables them to better manage their family size, provide better care to their family and send their children to school.
However, poverty is an important factor in whether girls and women obtain an education. Without a living wage, poverty-stricken workers cannot afford to send their children to school and the cycle of poverty continues. Education has the power to help improve the lives of women and reduce maternal and child mortality rates. Therefore, education for girls fosters the development and empowerment of women.
Moving Forward
Poverty in the fashion industry is a feminist issue. Brands that invest in the talented and skilled female workforce acknowledge that living wages empower women and their local communities. Garment workers need to be placed at the forefront of the industry to negotiate better pay and working conditions. Being in leadership roles ensures that fashion as a feminist movement represents the most vulnerable around the world. The fashion industry and consumers have the power to help end global poverty, improve access to education and empower women through conscious consumerism.
– Giselle Magana
Photo: Flickr
https://borgenproject.org/wp-content/uploads/logo.jpg
0
0
Kim Thelwell
https://borgenproject.org/wp-content/uploads/logo.jpg
Kim Thelwell
2021-05-22 07:31:04
2021-05-19 07:20:18
Poverty in the Fashion Industry is a Feminist Issue