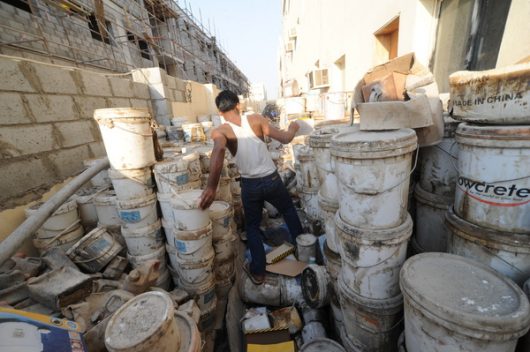 The Ministry of Development Planning and Statistics disclosed on June 6, 2016 that 1.4 million people, nearly 60% of Qatar's population, live in what the Qatari government officially labels as "labor camps."
Migrants from poorer countries have moved to Qatar in recent years to develop its infrastructure for tourism projects, including preparation for the 2022 World Cup.
However, migrant workers continue to live a life of poverty in Qatar, with many human rights groups like Amnesty International condemning Qatar for providing "squalid and cramped accommodation" for its very large migrant workforce.
According to Amnesty International, migrant workers are also not paid for several months at a time, which puts significant emotional and financial pressures on workers already burdened with heavy debts.
Recently, 13 people died in a fire that broke out in a labor camp for migrants working on a waterfront tourism project in southwest Qatar. The fire highlights how Qatar has treated migrant workers by providing poor living conditions for them.
The government responded to criticism by building new housing complexes for workers, including a city south of Doha. This new city, known as "Labour City," will include cinemas, shops and a cricket stadium for migrant workers.
Outside of the government, various organizations have also assisted migrant workers to overcome their life of poverty in Qatar. One such organization is Reach Out to Asia (ROTA), a member of the Qatar Foundation for Education, Science and Community Development.
On June 8, ROTA launched its Ramadan Project 2016, bringing together over 100 local volunteers to pack and distribute bulk groceries to more than 200 families in need across Qatar.
ROTA volunteers packaged food parcels containing items such as flour, cooking oil, milk powder and lentils that were later distributed before the start of Ramadan. The program also provided beneficiary families with shopping vouchers to purchase other products.
ROTA volunteers, numbering 300, partook in several community service activities set to take place over the month, including the installation of computer labs for migrants working on construction projects.
Despite living a life of poverty in Qatar, migrant workers are slowly overcoming hardships through additional assistance by the government and various organizations.
– Alexis Pierce
Photo: Flickr
https://borgenproject.org/wp-content/uploads/logo.jpg
0
0
Borgen Project
https://borgenproject.org/wp-content/uploads/logo.jpg
Borgen Project
2016-08-09 01:30:52
2020-06-17 18:32:39
Addressing Poverty in Qatar: 60 Percent Live in "Labor Camps"