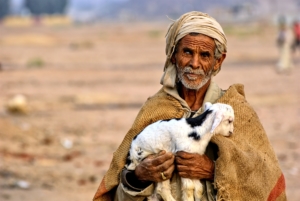 Social and political unrest often take the blame for rising poverty rates in the Arab world. However, unrest alone cannot explain why poverty in Morocco has continued to fall after the Arab Spring protests. It also cannot express why Egypt has seen a relative rise in poverty. However, it is possible to relate the reasons behind the countries' two trajectories by examining the recent policies of each. Here are five reasons for Morocco's falling poverty rate. Also included are a few reasons why the poverty rate is climbing in Egypt. This article will highlight the differences between poverty in Morocco and Egypt.
Reasons for Declining Poverty in Morocco
Morocco announced the National Human Development Initiative Support Project

 (INDH) in 2005. The

 project had 

a 

$1  billion budget and a five-year timeline to improve the living conditions of citizens, reduce poverty

in Morocco

 and assist the most vulnerable families. Unfortunately, much

 of the funds did not reach the most vulnerable. However, t

he share of its rural population

in poverty that the project targeted was 32% while 28%

 of the targeted urban population was in poverty

.

 

Population growth has slowed.

 Fertility dropped from 5.5 to 2.3 children per adult woman during the past three decades, which settled the population growth rate to 1.7%. The result of reduced pressure on public services and better living standards overall occurred due to a changing population structure.

Better access to education could be

one

 cause.

The Moroccan government invested in basic infrastructure programs.

 

This included an expansion of the drinking water supply, the electricity network and the road system. In addition, social programs existed for decades that provided free education, access to health care and basic food commodities.

Policymakers shifted from universal public spending to targeted public spending.

Prior to this 1996 program designed jointly with the World Bank, policymakers allocated only 1% of Morocco's GDP toward programs that target

those living in poverty in Morocco

. The Social Priority Program marked a shift from universal public spending to targeted public spending. The program focused on 14 of the poorest provinces with projects in basic education, job creation and social assistance.

NGOs in local development helped people move out of poverty

 in Morocco. This benefitted the poor in areas such as  water and electricity management and literacy programs. Since a 2002 amendment that allowed NGOs to receive foreign funding, the number of NGOs increased to 40,000 over a period of two decades. Government officials have tolerated NGOs with the understanding that they stay out of local political issues. 
Egypt and the Rise of Poverty
In looking at some of the causes of the falling rate of poverty in Morocco, it is possible to compare it to other nearby countries, as well as examine what policies have not been working in said countries. Egypt is a country that has seen the opposite trend in its overall poverty rate, now climbing to 32.5% in 2018, up from 16.7% in 2000. However, it is not fair to say that the social and political situations of the countries are equivalent. Egypt faced the removal of two presidents within two years. Still, there are many parallels between the two countries that make a comparison relevant between poverty in Morocco and Egypt.  
Egypt has had a growth rate of 2.15% over the past three decades. To give some understanding of what this difference means, Morocco's population would have been 36 million in 2010 if its growth rates were that of Egypt's over the same period of time. In 2010, Morocco's population was only around 32 million. Providing better access to education may reduce the growth rate, as Egypt's education system is underfunded and in need of reform.
Policies Impacting Poverty Rates in Egypt
Economic Policies: In terms of economic policies, Egypt has taken a much different approach that has harmed the country's poor in favor of macroeconomic improvement.

 It has slashed subsidies for essentials and fuel

,

a move that helped the government cut its enormous deficit but that has  hit the poor particularly hard. 

This is somewhat in

contrast with the policies of Morocco

as

the government hiked prices on the essentials of drinking water and electricity

. 

NGOs: NGOs have not been able to operate freely due to a 2017 bill 

hampering their ability to provide social and developmental work. The detainment of many NGO workers has occurred because of their engagement in behavior that some see as morally upsetting.

Infrastructure: Egypt has also invested in infrastructure projects like Morocco but primarily in the private sector. The result has had an insulating effect on the rich. The construction of gated communities and shopping malls continues while public schools and hospitals fall into disrepair. Areas often bulldoze slums and poor housing areas  in favor of

 u

pscale complexes that add 

to 

a

 growing housing crisis. 

Floating the Currency: Perhaps the most damaging policy was the decision to float the currency in November 2016 in another effort to strengthen the economy. Prices went up and imports became particularly unaffordable for anyone outside of the upper class. The move occurred in order to secure a $12 billion IMF loan over a three

–

year period.
The comparison between poverty in Morocco and Egypt has highlighted useful information about the best policies to eradicate poverty. Poverty in Morocco has decreased dramatically in the past three decades due to a few policies. The policy measures that Egypt has taken unsurprisingly show that slashing subsidies that benefit the poor have had a negative impact on poverty rates. Investing in infrastructure that benefits the poor, subsidizing basic needs and a lenient stance toward foreign NGOs are just a few policies that Arab governments and others could enact in order to achieve the results that Morocco has seen.
– Caleb Steven Carr
Photo: Pixabay
https://borgenproject.org/wp-content/uploads/logo.jpg
0
0
Jennifer Philipp
https://borgenproject.org/wp-content/uploads/logo.jpg
Jennifer Philipp
2020-05-18 01:30:30
2022-03-23 13:10:11
Policy and Poverty in Morocco and Egypt