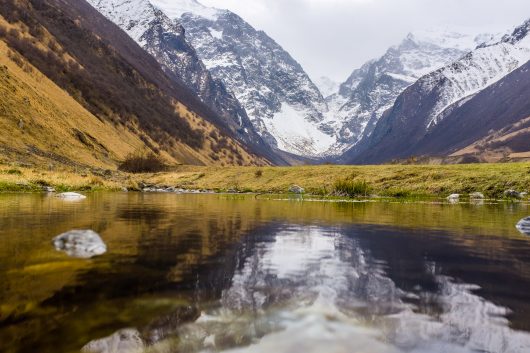 Discussing poverty in Georgia is difficult to do without also acknowledging the sensitive subjects of Abkhazia and South Ossetia. There is extensive debate over how best to describe these regions, but they are described as anything from disputed territories to de facto Russian client states propped up and recognized by few other than Russia itself. As such, poverty in Abkhazia and South Ossetia comes with its own special set of circumstances.
The collapse of the Soviet Union was a major turning point in the history of this part of the world and it has left lingering trauma in the region. Abkhazia and South Ossetia were relatively well-off parts of the Soviet Union, but following its collapse, they both saw their populations and their standards of living decline. The effect of this collapse is lingering poverty in Abkhazia and South Ossetia such that a majority of residents view the dissolution of the USSR in a negative light.
The current political situation in both of these territories is far from stable, even after nearly two decades of violence, suspected ethnic cleansing and political turmoil. This presents a unique set of obstacles for addressing poverty in Abkhazia and South Ossetia, particularly in Abkhazia.

Most residents of Abkhazia, regardless of ethnic group, seem to favor total independence with the exception of ethnic Armenians, who support integration into the Russian Federation. If anything, however, Russian influence is strongly cemented into the Abkhaz political sphere, which means that any changes in the status of Abkhazia will lean heavily toward deeper integration with Russia.
South Ossetia is also finding itself pulled more and more into Moscow's orbit. However, this is less of a problem than in Abkhazia as an overwhelming majority of its ethnically homogenous population is in favor of joining the Russian Federation.
The international community continues to debate whether and how to handle this political situation, but few are confident that a solution will be reached anytime soon. Meanwhile, however, poverty in Abkhazia and South Ossetia remains a problem and residents are finding that few in the midst of this great power struggle are attentive to their real and pressing needs.
Abkhazia and South Ossetia face particular challenges when dealing with poverty because of their disputed political status. It is difficult for them to access international markets, but Abkhaz and Ossetian products do not necessarily fare well in Russian markets. It is also worth noting that Georgia also suffers as a result; it has lost access to Russian markets as a result of this political dispute, where prior to the conflict 70 percent of its trade volume was with Russia. The complicated political situation makes it difficult for aid to reach these regions and hinders efforts to collect accurate data.
The 2014 Winter Olympics were a beacon of hope to relieve poverty in Abkhazia and South Ossetia. The goal was for tourism to nearby Sochi to help shine a light on these locales and promote tourism there as well. However, this ended when Russia, prioritizing security above all else, closed the Abkhazian and South Ossetian borders.
That being said, there are a number of actors trying to improve the situation and promote economic development in this troubled region. The UNDP in Georgia has made combating poverty, and specifically youth unemployment, a key feature of its work. Promoting youth employment is key because it not only promotes economic growth, but can also discourage young people from becoming involved in political violence.
While Abkhazia and South Ossetia face many challenges that will not abate any time soon, efforts are being made to work around the political situation to bring real change to the lives of the people in these regions. Abkhazia and South Ossetia are just two reminders that even in seemingly intractable conflicts, poverty reduction is still critically important and can make a huge difference.
– Michaela Downey
Photo: Flickr
https://borgenproject.org/wp-content/uploads/logo.jpg
0
0
Borgen Project
https://borgenproject.org/wp-content/uploads/logo.jpg
Borgen Project
2018-03-07 01:30:50
2019-11-05 02:03:38
Poverty in Abkhazia and South Ossetia Needs Improvement