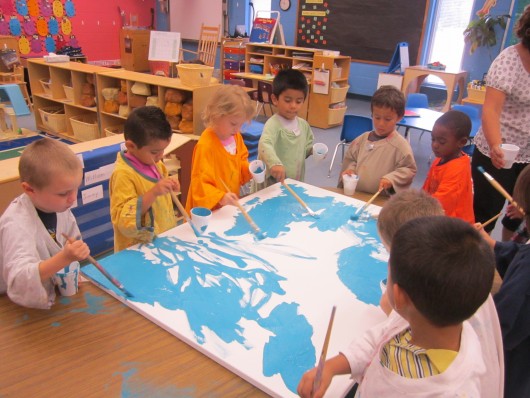 Early childhood development (ECD), or the time from a child's birth to turning 8 years old, is considered the most critical window of childhood development.
During this eight-year window, children undergo intensive physical and social growth, shaping their bodies and perceptions of society.
But many children in developing nations lack the nutrition, healthcare and social engagement necessary during ECD to have a strong foundation for future growth and development.
ECD initiatives, ranging from parental training to preschool, have been shown to dramatically improve children's earning potential and help them to escape the poverty cycle.
In the post-2015 Sustainable Development Goals, the United Nations specifically addressed the value of ECD in Goal 4, stating that by 2030 all children will "have access to quality early childhood development, care and pre-primary education so that they are ready for primary education."
The British Prime Minister, David Cameron, echoed the importance of providing aid to ECD for the termination of global poverty, saying, "Children have been educated who otherwise would have missed out."
Through aid efforts, programs are sprouting throughout some of the world's poorest regions, showing promising results.
The World Bank reports that children in developing nations who have participated in ECD programs have higher levels of cognitive and academic performance than their peers.
Children who have benefitted from ECD initiatives are also more prepared to enter primary school and learn more efficiently while in class. This early success in schools has led to lower levels of dropouts and grade repetitions.
As educational levels rise, so does earning potential. Especially for girls. For every year of primary education a girl receives, her earning potential rises 10 percent to 20 percent, and for every additional year of secondary education, her earning potential rises another 15 percent to 25 percent, empowering her in the workforce.
As the workforces in developing nations expand with more educated and skilled laborers, the population at large benefits from an expanded consumer base.
With increased earning and buying power comes a more complex and stable economy that is less susceptible to shock and a higher gross domestic income.
According to UNICEF, this increase in school attendance shrinks the gap between the wealthiest and poorest families, hoisting children and their families out of the poverty cycle.
– Claire Colby
Sources: The Guardian 1, The Guardian 2 UNICEF, UN, USAID, World Bank
Photo: Sharp School
https://borgenproject.org/wp-content/uploads/logo.jpg
0
0
Borgen Project
https://borgenproject.org/wp-content/uploads/logo.jpg
Borgen Project
2015-10-22 01:30:31
2020-06-25 21:18:55
Early Childhood Development and Economic Stability