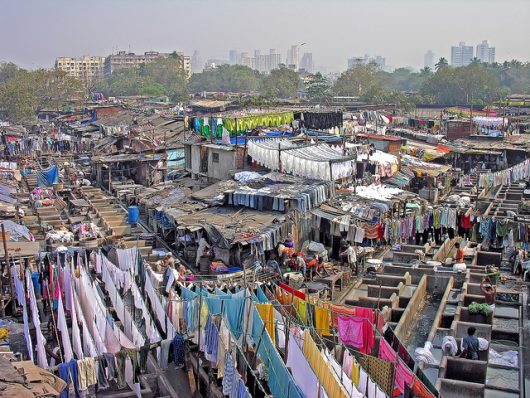 The world is experiencing rapid population growth and urbanization. Advances in medicine have allowed for increased life expectancy as well as decreased infant mortality, while birth rates have largely remained unchanged. This combination of circumstances has lead to great growth; between 1999 and 2011, the population increased by nearly one billion people.
The population increase has led to rapid urbanization. People migrate to cities with the promise of economic or educational opportunity, technological advancement and access to health care. It is estimated that by 2050, 66 percent of the world's population will live in urban areas.
This urbanization of cities that are neither prepared nor equipped to deal with overcrowding places strain on both natural and manmade resources alike. The following is a list of five cities suffering from both poverty and overcrowding.
Five Major Cities Dealing With Poverty and Overcrowding
Mumbai, India: With a population density of 171.9 people per square mile, India is notorious for overcrowding. Mumbai is no exception, with a population near 23 million and a population density of almost 70,000 people per square mile.Mumbai serves as India's commercial hub and is home to the Bollywood industry, making it prone to migration. Yet, those with hopes of Bollywood often end up in prostitution or organized crime. The population has doubled in 25 years, leading to many slum neighborhoods.In fact, half of the population of Mumbai lives in overcrowded, unsanitary slums that comprise only eight percent of the city's geographic area. Although great wealth exists throughout Mumbai, poverty and overcrowding continue to increase.
Dhaka, Bangladesh: Being named the most densely populated city in the world in 2015, Dhaka suffers from overcrowding and poverty alike. It has also been named to lists of least livable cities and fastest growing cities.Its population is over 18 million, with a density of 114,300 people per square mile. Roughly one-third of Dhaka's residents live in poverty, with two million inhabiting slums or without any form of shelter.
Lagos, Nigeria: Lagos is Africa's fastest growing city. In 2017, the population was 21 million; the U.N. predicts that this number will rise to over 24 million by 2030.Situated between the Atlantic Ocean and a lagoon, Lagos is Nigeria's commercial capital. Yet, 300,000 people live in slum neighborhoods and make a living by fishing out of hand-built canoes.  One-fifth of the city's residents live in poverty.The slum houses are fashioned from scrap-metal and elevated on stilts to protect against flooding. There is little access to clean water, electricity or quality education. The majority of slums are built along the coast, causing friction with the wealthy as well as the government, which has evicted many communities on faulty logic in order to seize the land.
Manila, Philippines: Manila has a population of 1.7 million and a land area of less than 10 square miles, leading to a high population density of over 170,000 people per square mile. Manila serves as the Philippines capital and home of its banking and commerce industries.In Manila, 600,000 people live in slum districts, which are ridden with disease and malnutrition. Many kids do not attend school, as parents are often forced to choose between feeding the family or sending the kids to school.
Ulaanbaatar, Mongolia: Ulaanbaatar boasts the highest population density on this list, with over 760,000 people per square mile. The influx in population resulted in unplanned neighborhoods known as "ger" areas, which house 60 percent of Ulaanbaatar's population but are vulnerable to natural disasters and lack water and sanitation sources as well as electricity.A number of expensive apartment buildings mark the city's skyline, yet many of these buildings remain empty due to the high cost of living. The government intervention has tended to benefit the upper-income subgroups, rather than those living in poverty.
Poverty and overcrowding are endlessly entwined. Rather than placing a halt on migration and urbanization as many cities have attempted, lack of affordable housing, quality water and sanitation facilities, education opportunity and food shortages ought to be addressed. Cities must respond to the growing demands that come with overcrowding in order to help alleviate poverty and decrease hardship.
– Jessie Serody
Photo: Flickr
https://borgenproject.org/wp-content/uploads/logo.jpg
0
0
Borgen Project
https://borgenproject.org/wp-content/uploads/logo.jpg
Borgen Project
2018-07-02 07:30:52
2019-09-26 16:38:47
Five Cities Suffering From Poverty and Overcrowding