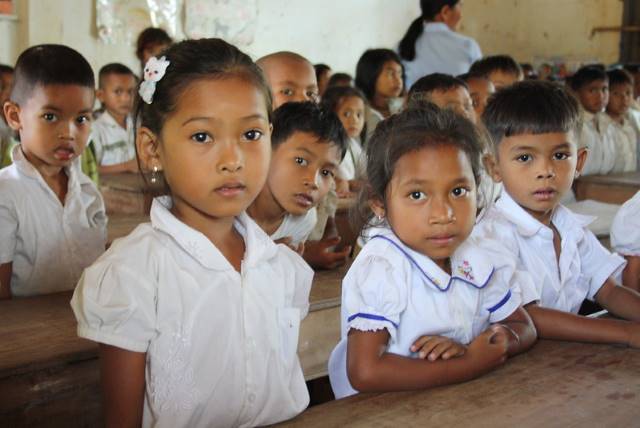 Cambodia has come a long way in eliminating poverty. From 2007 to 2014, Cambodia's poverty rate decreased by about 30% and it is now a middle-income country. However, one pressing issue that continues to trouble the country is access to education, particularly for those living in extreme poverty and rural areas. The good news is that several organizations are improving education in Cambodia by increasing access and tackling obstacles head-on.
Cambodian Children's Fund
The Cambodian Children's Fund (CCF) works in Phnom Penh, Cambodia's Stung Meanchey district. Though the organization's focus is on improving education in Cambodia, CCF starts by providing basic needs to the families living in the highly impoverished area that was once a dumping ground. This meant building suitable shelters and homes for families living in makeshift tents.
Once CCF helped provide essentials, the focus turned toward providing stable education for children, while their parents scavenged the junkyard to earn whatever income they could. Children that started in extreme poverty were now attending primary school through high school due to CCF. In 15 years, CCF provided education for more than 3000 children, and of those that started early in the program, nearly 70% were attending college.
Pour un Sourire d'Enfant (PSE)
French expatriates Christian and Marie-France des Pallières, created PSE when the couple traveled to Cambodia and noticed the number of children experiencing extreme poverty. The couple spent two decades advocating for children living in poverty in Cambodia, commuting between there and Europe.
Initially starting in Phnom Penh, PSE now has more than 6000 students benefitting from the organization's projects throughout Cambodia, including more rural areas near Siem Reap and Sihanoukville. PSE provides everything from food to healthcare and enrolls children in state or corrective schools depending on their needs. Cambodia's Ministry of Education has noticed success in PSE's remedial schools. The PSE approach, now utilized by the government, will be improving education in Cambodia for 6000 children per annum.
Khmer NGO for Education (KHEN)
In 2014, KHEN changed direction from being a health education organization to highlight children's rights. Now, KHEN is a large-scale NGO focused on improving education in Cambodia's rural Battambang province for traditionally unprotected children, including those with disabilities, girls, minorities and children living in extreme poverty.
KHEN operates in more than 100 schools, most of which were built by the group, and serves more than 10,000 children. It has a long-term focus on education while also protecting children from human trafficking and poor health. Facing the COVID-19 pandemic, KHEN acted swiftly to modify its schools to be open-air and socially distanced, with sanitation stations. Teachers and volunteers received education on preventing the spread of COVID-19 and home-learning tactics changed as well.
Cambodian Community Dream Organization
The Cambodian Community Dream Organization (CCDO) was founded by U.S citizen, Jenni Lipa, who exclusively worked on building water wells in the rural areas around Siem Reap. Now, CCDO improves lives by providing sanitary services, health programs and extensive education systems. CCDO keeps costs low by using local and international volunteers and local paid staff.
There are three schools CCDO operates in, centered on English learning. CCDO offers a schooling experience like most developed countries, with physical education, libraries, playgrounds, arts and crafts and computer workshops. Children enrolled in the programs are particularly fond of the library. CCDO also provides early childhood education programs and gives students who excel in their classes opportunities for high school and university scholarships.
People Improvement Organization
Since 2002, the People Improvement Organization (PIO) has operated in poverty-stricken areas of Phnom Penh. Phymean Noun, a native Cambodian, believed the children scrounging through junk piles to make a living deserved a chance to achieve their dreams. The decision she made was to improve education in Cambodia in order to end child poverty.
PIO believes in providing high-quality education to all children in need. All students attend PIO schools voluntarily, but PIO provides clothes, food, clean water, full social care and health services. Many children who scavenged through junkyards to survive have been pulled out of poverty and are now attending PIO high schools and even university.
NGOs have helped reduce child poverty in Cambodia through better access and improvements in education. The low costs in Cambodia allow new organizations to form rapidly and successfully. Through similar philanthropic efforts toward improving education in Cambodia, child poverty can be successfully combated.
– Zachary Kunze
Photo: Flickr
https://borgenproject.org/wp-content/uploads/logo.jpg
0
0
Kim Thelwell
https://borgenproject.org/wp-content/uploads/logo.jpg
Kim Thelwell
2021-02-10 07:30:50
2021-02-08 06:54:50
5 NGOs Improving Education in Cambodia