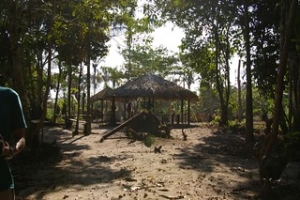 The recent news that Ecuador will be auctioning off more than three million hectares of land in the Amazon jungle to Chinese oil firms has started many conversations about land management in the world's largest tropical rain forest. Along with the damaging results that oil wells and oil leaks have on the environment in the Amazon jungle, there are also serious consequences for the local inhabitants.
Much of the Amazonian oil rights are owned by Canadian and Argentine oil companies and there is a long history of evicting local indigenous communities in order to drill for oil. With the coming sale of the Ecuadorian jungle property, an NGO named Amazon Watch claims that seven indigenous groups in the region have protested the sale. The groups risk being displaced from their homes as well as having the local environment be destroyed, which would drastically affect their way of life. Neighboring Peru has sold much of its' Amazonian land rights to oil companies and their indigenous communities have suffered similar injustices.
Today, groups like the Environmental Monitoring Programme, part of the larger Federation of Native Communities of the Corrientes River, investigate reports of oil spills and fractured oil wells in order to record the environmental damage. This data is used to strengthen the claims and protests of local leaders against the oil practices that are so harmful to the delicate ecosystem. The Environmental Monitoring Program to date has discovered 120 oil leaks and, since 2006, more than 9,000 abandoned wells have been recorded. Many of these unused wells contribute to the harmful pollution of the Corrientes and Amazon rivers.
So, as this sale goes through in the near future it is important that the world request stricter oil industry standards in the Amazon in order to protect the environment and the lives of the peoples who live there.
– Kevin Sullivan
Sources: IPS News, The Guardian
https://borgenproject.org/wp-content/uploads/The_Borgen_Project_Logo_small.jpg
0
0
Borgen Project
https://borgenproject.org/wp-content/uploads/The_Borgen_Project_Logo_small.jpg
Borgen Project
2013-03-31 09:32:57
2020-05-04 07:39:49
Oil Industry in the Amazon