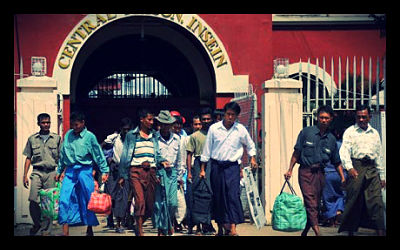 Myanmar has had a long history of political unrest and has taken thousands of political prisoners over the past few decades. In 2011 there were approximately 2,100 innocent prisoners, most of whom did not support the Burma's military, or were members of the National League for Democracy (NLD).  But now, after decades of imprisonment for some, Myanmar President U Thein Sein has promised to release all of them by the end of the year. In doing so he acknowledged that the prisoners were indeed, still being held.
Most of the prisoners have already been released since 2010 when Thein Sein took power, but as of April 2013, 176 still remain, and Thein Sein has guaranteed that there are soon to be no political prisoners of conscience in Myanmar. He made the announcement during a speech at Chatham House in Britain (Burma's former colonial power) on July 15, saying that a special committee was being appointed to go over every political inmate's case. He was in London to discuss trade and military ties in order to boost Burma's economy. The 2010 election was an important turning point for Burma, having replaced military rule with military backed civilian government.
The most noteable prisoner was Aung San Suu Kyi who won the Nobel Peace Prize in 1991 for her work as head of the NLD in the 1990 election, when it won 59% of the votes and 81% of parliament seats. But the NLD was never able to take power because Suu Kyi had already been detained under house arrest as a prisoner for speaking out against brutal dictator U Ne Win in July 1989.  She spent 15 of the next 21 years as a political prisoner, until her release in November, 2010.
Since he took office, Thein Sein has been working to promote human rights in Burma, which has seen much sectarian violence such as the recent fighting and killing between local Buddhists and the minority of Muslims. Rohingya Muslims in Burma have been said to be the most oppressed religious group in the world today.
At their meeting in London, English Prime Minister David Cameron discussed Burma's ongoing violence with Thein Sein, asking him to do more to create peace in the region. Thein Sein promised a "zero tolerance" policy against anyone who fuels ethnic hatred.
– Emma McKay
Sources: New York Times, Freedom House, Biography.com, BBC
Photo: The Telegraph
https://borgenproject.org/wp-content/uploads/logo.jpg
0
0
Borgen Project
https://borgenproject.org/wp-content/uploads/logo.jpg
Borgen Project
2013-07-31 04:19:23
2013-08-09 10:53:03
Myanmar to Release Political Prisoners