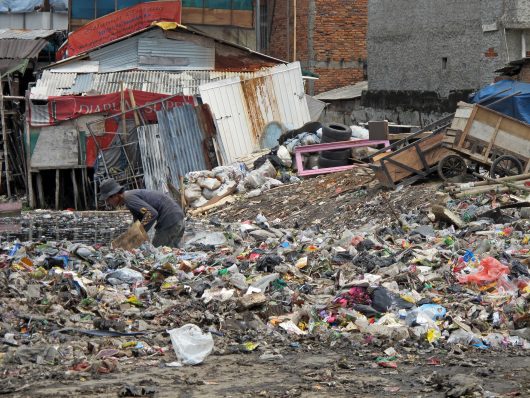 Indonesia is second only to China as the world's largest contributor to plastic pollution. Between 1.15 million and 2.41 million tons of plastic waste contaminate the oceans each year. Of this, Indonesia is estimated to contribute roughly 200,000 tons of waste from its rivers and streams. Plastic pollution in Indonesia has become a huge nuisance.
Four of Indonesia's rivers, Brantas, Solo, Serayu and Progo, rank among the top 20 most polluted rivers in the world. Even though Indonesia possesses about 6 percent of the world's fresh water, its public water is contaminated with E. coli, fecal matter and other harmful pathogens. The water supply has become undrinkable due to this contamination. Approximately 80 percent of the Indonesian population lacks access to water from pipes, therefore depending on river water for drinking, cleaning and bathing.
Lack of government investment in water pipes has caused the majority of the country to be dependent on water bottles or boiled river water for their consumption. Many Indonesian frequently use disposable plastics in forms of bags, cups, bottles and utensils, making plastic use a common part of their daily routine.
In order to halt plastic pollution in Indonesia, it is important to alter the country's land-based waste management system. The government has committed to allocating $1 billion a year to drastically reduce the amount of plastic and waste products contaminating the country's water sources. Indonesian Coordinating Minister Luhut Binsar Pandjaitan made the declaration at the 2017 World Oceans Summit in Nusa Dua, Bali.
Pandjaitan notified representatives at the summit that Indonesia would reduce its marine waste by 70 percent within eight years. A few measures proposed to contribute to this reduction are the development of industries that use biodegradable materials to make plastic substitutes, widespread taxing of plastic bags and initiating a sustainable public education campaign.
In addition to public education campaigns and charges for plastic bags, the government is also initiating a new land-based waste management tactic: turning scraps into road materials.
These plastic roads, which are made of shredded, melted plastic waste mixed with road tar, are being promoted as an inexpensive and more durable surface than standard roadways. It is also an alternative to discarding the tons of plastic waste that sit in landfills and clog waterways.
On July 29, 2017, Indonesia laid out its first plastic road test, stretching 700 meters, at Udayana University in Bali. Officials now plan to use the dump mix on roads in the cities of Jakarta, Bekasi and Surabaya.
Plastic pollution in Indonesia is believed to approach 9.52 million tons by the year 2019, which is about 14 percent of the country's waste. If each kilometer of road requires 2.5 to five tons of plastic waste, it could be used to pave 190,000 kilometers of roadway. This is a perfect illustration of the idiom "one man's trash is another man's treasure", and the new roads can contribute greatly to converting that waste into a useful material.
– Zainab Adebayo
Photo: Flickr
https://borgenproject.org/wp-content/uploads/logo.jpg
0
0
Borgen Project
https://borgenproject.org/wp-content/uploads/logo.jpg
Borgen Project
2018-02-26 01:30:02
2019-11-05 23:44:38
New Road Material Reducing Plastic Pollution in Indonesia