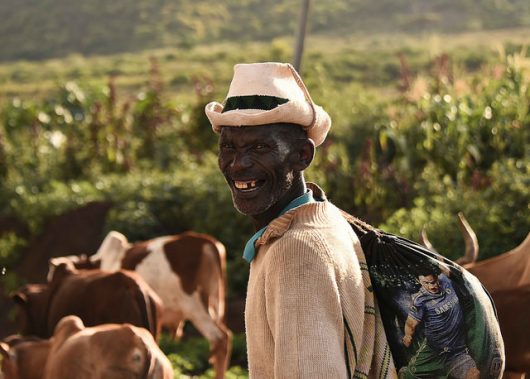 As technology improves around the world, more apps have been developed that aim to help impoverished countries. An example of one of the apps that help impoverished countries is called iCow. iCow is an app that aims to reduce cow mortality rates and educate farmers on proper agricultural practices.
In many African countries, farmers have no formal training. As a result of a lack of formal training in agriculture, farmers do not know how to properly raise farm animals. This is problematic because these farmers are the foundation for growing crops that feed the nation. In an effort to combat this problem, the iCow app was made to help these farmers.
The app in itself is easy to use. After the initial registration, farmers type in information about their cows, such as their weight and calving dates. Once the farmers key in this information, the iCow app can give tailored advice about how to take care of their cows.
Not only does it give tailored information, but the iCow app also gives tips on breeding, animal nutrition and milk production. Farmers will benefit from the specific advice given to care for their cows as well as general advice that will assist them in the future.
The app also works like a calendar for cows. It keeps records about milking schedules and immunization dates. The app provides farmers with good veterinarians in the area for their cows.
Even though the app is called the iCow, this app is not exclusive to Apple products or smartphones. The iCow app is made to work for all mobile devices, so any farmer with a phone can use it.
As a result of its universality and wide availability, nearly 60,000 farmers in Tanzania and Ethiopia have registered to use the iCow app. These farmers are able to breed healthier animals that can be sold and produce food for the nation. These healthier animals are not only better for consumption, but they bring in more money for the farmers.
The iCow app is not only one of the many apps that help impoverished countries, it is an app that helps maintain healthier food security.
Food security is an issue that many impoverished countries face. Finding solutions to these problems is the key to helping raise countries out of poverty. Apps that help impoverished countries, like the iCow app, can change millions of lives. The iCow app aims to ensure that the citizens of impoverished countries are well fed.
– Daniel Borjas
Photo: Flickr
https://borgenproject.org/wp-content/uploads/logo.jpg
0
0
Borgen Project
https://borgenproject.org/wp-content/uploads/logo.jpg
Borgen Project
2017-12-03 01:30:25
2018-01-04 09:44:02
Apps That Help Impoverished Countries: iCow