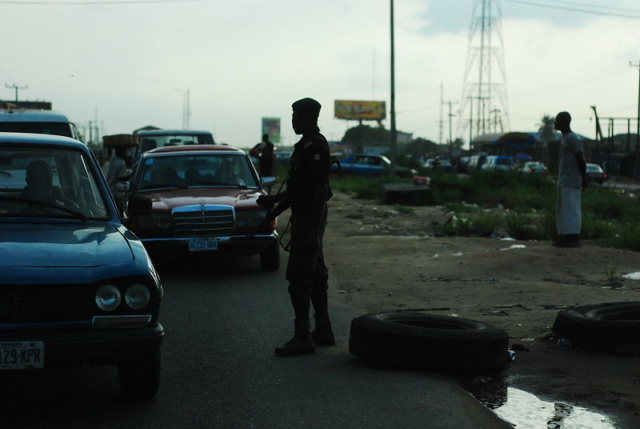 People most commonly define corruption
as the "abuse of entrusted power for private gain," and government officials and citizens feel its effects on an everyday basis. It is a growing political issue around the globe, but developing countries like
Nigeria
 often struggle deeply to control or combat 
corruption
. The most reliable source
that measures 

corruption
is the Transparency International's
Corruption
 Perceptions Index. 
Nigeria
often ranks in
the bottom quartile
of this index, with the scale being zero (most corrupt) to 100 (cleanest). Below are 10 facts about corruption in Nigeria.
10

 

Facts

 About 

Corruption

 in 

Nigeria
Nigeria

 has two main political parties: the All Progressive Congress party (ADC) and the People's Democratic Party (PDP). These parties are almost identical in platforms but still oppose one another. Each party often increases 

corruption

 in 

Nigeria

 by utilizing misappropriated public funds to run opposing campaigns.
A survey from 2013 showed that over 75 percent of journalists admitted to accepting financial gifts from politicians. These bribes often lead to editors and journalists manipulating stories and coverage to create media 

corruption

 in 

Nigeria

. Despite this, the country still maintains an almost completely free press.

Corruption

 in 

Nigeria

has neither improved nor declined in score over the past several years. Typically, the country's score varies from 25-28 any given year. Although there has not been a sharp increase or decrease, 

Nigeria

still ranks below the average of 32 for the sub-Saharan African region.
Former petroleum minister Diezani Alison-Madueke used a $115 million bribe to secure an election victory for the PDP in 2015. The ADP and PDP collectively spent almost $2 billion on his campaign in the same year. This spending came from public funds and contributed to higher electoral

corruption

 in 

Nigeria

.
Entrepreneurs generate 50 percent of the GDP in

Nigeria

 but often face extortion and racketeering from police forces. Federal legislators have diverted $433 billion to vague projects in the past several years. This hurts small businesses in the country and allows 

corruption

 in the government to continue.
Before the 2015 elections, the removal and distribution of $236 billion to 24 state governors occurred without explanation. Nigeria originally opened the fund to provide inexpensive loans to small businesses in the country. As of 2018, there is evidence to suggest that this money has been almost completely embezzled throughout the years.
Nigeria has conducted a fixed exchange rate for its currency, the naira, in hopes of preventing further inflation from

corruption

. The naira is currently one of the lower performing currencies in the world largely due to continuing

corruption

 in 

Nigeria

. This new rate has caused prices of imported goods to double and inflation to spike.
The Buhari administration has proposed a budget with plans for investing in agriculture and mining while battling corrupt business practices. However, projects like these often consume large quantities of public funds. This appropriation of funds to industrial projects often leads to higher levels of 

corruption

 in 

Nigeria

.
Between 2011 and 2015, over $3.6 billion disappeared from Nigerian public coffers. Unfortunately, this stolen sum resulted in a loss of potential roads, schools and homes planned for construction. This includes a loss of 500 kilometers of potential roads and around 200 potential schools that required only one-third of the stolen funds.

Corruption

 in 

Nigeria

affects poorer families most severely. These high levels of 

corruption

 could cost individuals $1,000 per person by 2030 if the country does not address it. Further, the levels of inequality continue to increase in the country due to

corruption

. 
The country still has many steps to take in order to successfully defeat corruption and continue developing. A presidential advisory committee has recently established to combat corruption in Nigeria. Nigeria also now legally requires banks to issue universal identification numbers to individuals. This process works by tracking multiple accounts owned by an individual and identifies missing or misappropriated funds. Citizens must speak out against corruption and governments must be held accountable in order to fully combat the issue. Additionally, governments must strengthen their institutions and close loopholes that allow for corruption in Nigeria to continue. For now, Nigeria is taking action in hopes of at least decreasing corruption in the coming years.
– Hannah Easley
Photo: Flickr
https://borgenproject.org/wp-content/uploads/logo.jpg
0
0
Jennifer Philipp
https://borgenproject.org/wp-content/uploads/logo.jpg
Jennifer Philipp
2020-01-27 10:30:01
2020-02-06 06:26:55
10 Facts About Corruption in Nigeria