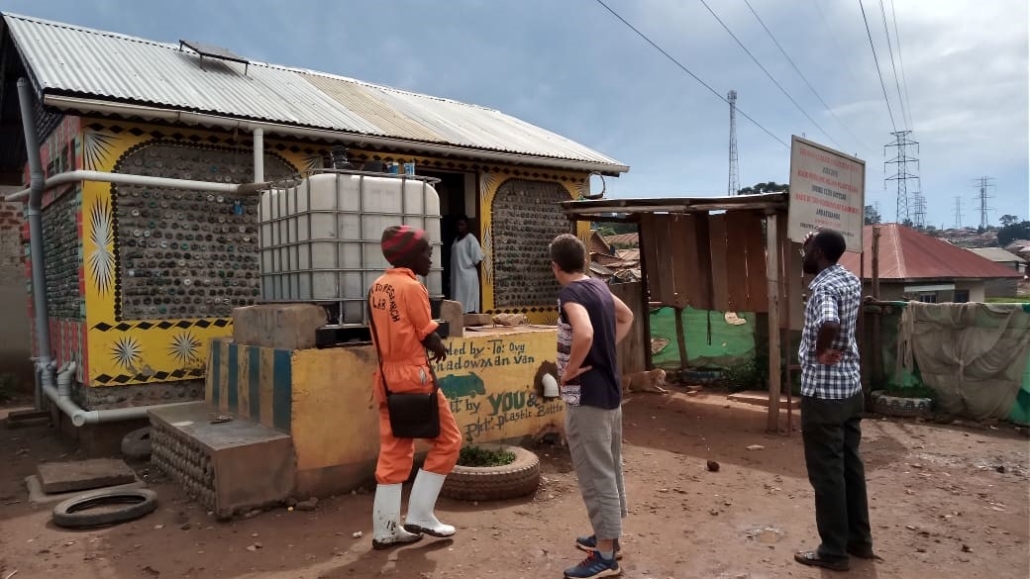 From piles of discarded plastic, solutions arise. Sustainability is the work of the dedicated, passionate leaders of the Ghetto Research Lab of Uganda. In Kamwokya, an area with 10,000 residents in Uganda's capital city of Kampala, Ghetto Research Lab of Uganda develops innovative projects that improve the lives of impoverished residents while solving environmental pollution.
The Borgen Project interviewed CEO and Ghetto Research Lab Founder Patrick Mujuzi, who creates jobs and a better future for ghetto youth in the slums of Kamwokya. His dynamic vision for Ghetto Research Lab entails re-purposing plastic while creating a positive environment. He hopes to unite people worldwide to build an understanding of the need and impact of GRL's work. He hopes that each person will understand their role in eliminating plastics from the environment.
Ghetto Research Lab undertakes an incredible range of projects, which people can study for replication. The garbage of others becomes its scientific tool. It turns what would otherwise be waste into urban farming opportunities, building materials and a sense of community. As a research lab, it learns by doing and through trial and error, not with the advantage of advanced equipment. Here are some of Uganda's Ghetto Research Lab's projects.
Support of Ghetto Youth
Ghetto Research Lab transforms the lives of young adults by nurturing their social development and creating job opportunities. One hundred and seventy youth currently work with GRL. Participants learn to forge a positive path, gain life skills and receive support. The number of participants continues to grow. Mujuzi refers to this work as "positive living and rehabilitation."
Plastic Management
Ghetto Research Lab creates plastic bricks by stuffing collected plastic bottles with discarded polyethylene bags, referred to as kaveras. These bottle bricks create buildings and serve the dual function of removing this waste from their environment. Local residents make extra income packing the bricks. Many plastic bottles (25,000) make up one building, each stuffed with 200 plastic bags, removing five million plastic bags from the environment.
Anther project includes creating pavers out of the discarded plastic by melting it and adding sand. GRL also develops compostable toilets in plastic bottle brick structures that provide a sustainable sanitation solution.
Urban Farming
Ghetto Research Lab practices several types of sustainable, urban farming including aquaponics which is the combination of conventional aquaculture and hydroponics. Aquaponics reduces fishing from polluted waters while providing good nutrition, improving the overall health of residents.
Hailey Bruce, the Aquaponics Administrator, has been with GRL for three years. When The Borgen Project interviewed him, it learned that he raises tilapia, catfish and vegetables, including cabbage and spinach, and that GRL members eat and sell crops. Bruce believes that aquaponics is a sustainable food security solution because it is accessible, affordable and holds the potential to generate income and create jobs without harming the environment.
GRL practices animal and poultry rearing, raising rabbits, goats, sheep and chickens. The sale of meat helps to fund GRL's endeavors.
GRL grows vegetables such as tomatoes which it grafts and breeds. It plants them using sack gardening which avoids ground pollutants. Additional crops include lettuce, cucumbers, beets and strawberries. It also engages in food value projects, collecting unwanted seeds from fruits such as papaya and avocado from nearby markets. It cleans and dries them in the sun, pounds them into a powder and mixes them into a nutritious drink. Next, it packages the drink and distributes it to people at risk of malnutrition. It also makes organic manure, pesticides and liquid soaps.
Technology, Art and Design
Through its technology department, Ghetto Research Lab works on renewable recyclable energy projects such as harnessing wind turbine electricity and the development of solar heaters. It created a machine that people run on to produce and store energy to be able to use electricity in nighttime hours when it would not otherwise be available.
GRL also engages in art and design projects such as painting and beautifying the buildings that people create from the bottle bricks.
Film, Media and Storytelling
In addition to GRL's sustainability, technology and food security projects, it engages young people through a storytelling and film production center called the Ghetto Media Lab. The Borgen Project spoke with Media Lab Administrator Edris Adams, who is a Ugandan filmmaker and produces documentary films for the Ghetto Media Lab. These films have the impact of building skills and empowering young people with the ability to create social change in their lives. The collective talent and inspiration produce impactful stories.
Edris Adams would like the world to hear the voices of ghetto youth. He would also like for the ghetto conditions to change for the better. He hopes for an increased understanding of poverty in Uganda. Adams aspires for everyone to engage in the battle against plastic and to encourage the planting of trees for an environmentally sustainable future. Everyone has stories and through sharing and learning, they can work to make not only the slums of Kamwokya a better place but also the world.
Patrick Mujuzi would like to see continued collaboration between Ghetto Research Lab and those interested in learning about it. In addition, he would like for GRL to become more commercial, but its limited space is an obstacle. Mujuzi sees that skill sharing with young people around the world holds potential. Ultimately, he would like to see plastics and polyethylene as things of the past.
With its hands-on success of projects and its willingness to work through trial and error, the Ghetto Research Lab of Uganda can be a model for results. GRL would like to become more established in its endeavors. Hopefully, it will have continued opportunities to educate others on its successes.
– Susan Niz
Photo: Ghetto Research Lab of Uganda
https://borgenproject.org/wp-content/uploads/logo.jpg
0
0
Kim Thelwell
https://borgenproject.org/wp-content/uploads/logo.jpg
Kim Thelwell
2020-02-03 02:00:27
2020-02-03 14:17:32
Ghetto Research Lab of Uganda