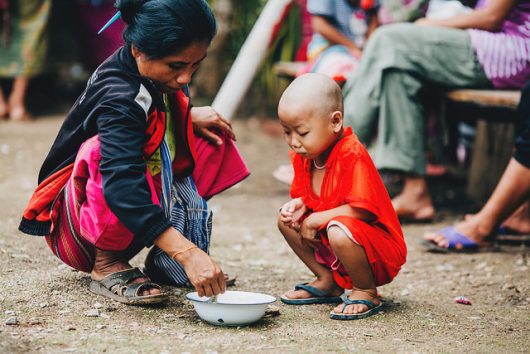 Over 815 million people suffer from hunger worldwide. The majority of these millions plagued by hunger come from lower income countries. Hunger and poverty are inextricably linked together in a cycle, poverty causing hunger through a lack of sufficient means, and hunger causing poverty due to high food prices and malnourishment, which affects performance in schools and in the workplace. Thus, in order to address hunger at any level, poverty must also be considered. There are a number of key organizations fighting world hunger as well as looking into its underlying factors.
Underlying Factors in World Hunger
In addition to stemming from poverty, world hunger can be the result of conflicts, climate change and economic and political issues that are seemingly unrelated. Long-term conflicts can interfere with food and agriculture production and also make humanitarian assistance very difficult. A poor economy can drive up prices, making food insecurity and hunger more prevalent. Natural disasters can decimate countries, leading to severe, temporary hunger; for example, El Nino is said to have been responsible for hunger in 20 million cases. Global climate change has also affected crop production as flooding or drought can destroy crops, which can lead to food insecurity.
In 2016, it was estimated that 10.7 percent of the world's population faced chronic undernourishment.  This can lead to long-lasting physical and mental health impairments. Hungry people are 2.9 times more likely to have health issues. Over 3 million children die per year as a result of a hunger-induced illness such as stunting, vitamin deficiencies, and growth restriction (for babies and fetuses). There are also many diseases that can lead to death in which hunger is an underlying condition, and malnutrition magnifies the effects of all diseases including measles and malaria. Hunger can also exacerbate mental health issues; children who are hungry are four times more likely to need professional counseling.
Key Organizations Fighting World Hunger
In order to fight world hunger, there must be more education that inspires understanding and leads to action. A multitude of organizations exists to assist those experiencing food insecurity. The most influential organizations are those that address root issues rather than just addressing band-aid issues.
Bread for the World addresses world hunger by lobbying world leaders to attack underlying causes, preaching that "we need to do more than just giving people a meal a day."
Results is another group that also uses education and lobbying as a tool to end world hunger through highly-trained advocacy volunteers.
The Food Research and Action Center is a hub for an anti-hunger network of individuals and agencies seeking to improve public policies surrounding hunger and malnutrition in the U.S.
Action Against Hunger eliminates hunger through detection and prevention measures as well as provides aid in treating malnutrition.
The Hunger Project is committed to sustainable ways to end world hunger, empowering people to be self-reliant in the long run.
Heifer International donates livestock to create long-term agricultural solutions and provide training in farming techniques.
These are but a few of the innovative organizations dedicated to helping the world's hungry. The U.S., for example, assists in hunger reduction by providing emergency food aid, supporting long-term developmental agriculture programs and assisting with organizations in trying to achieve global food security.
In order to help reduce world hunger, it is important to support research and policy and give to dynamic organizations. When looking at where to donate, keep in mind creative initiatives, the desire to address the root causes of hunger and programs that promote self-sufficiency and sustainability in the long term.
– Jessie Serody
Photo: Flickr
https://borgenproject.org/wp-content/uploads/logo.jpg
0
0
Borgen Project
https://borgenproject.org/wp-content/uploads/logo.jpg
Borgen Project
2018-07-18 07:30:31
2019-10-29 10:33:30
Key Organizations Fighting World Hunger