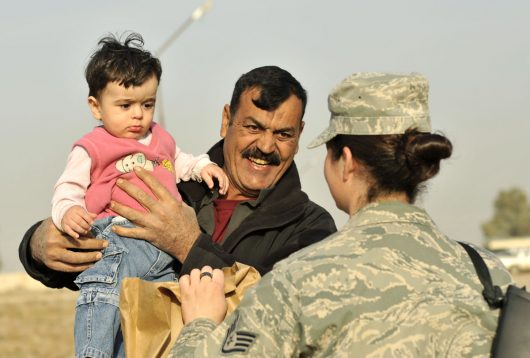 Under the cover of darkness, Syrian children and their adult chaperones cross the border into Israel. They are greeted by the Israel Defense Forces (IDF), but not with guns or bombs. They are greeted with medical care and food. This is Operation Good Neighbor.
The beginnings of this aid project started in 2013, when injured Syrians arrived at the Israeli border. The government made the decision to give them treatment. Since then, 4,000 Syrians have been treated. Operation Good Neighbor, started in 2016, expands this humanitarian initiative to a larger scale. The IDF serves around 200,000 Syrian residents who live in southwestern Syria. These Syrians are close to the Syrian-Israeli border, along the Golan Heights. One-third of them are displaced refugees and half of them are children. They all have been devastated by the Syrian civil war.
The IDF not only gives out medical care, it has begun supplying other necessities as well. The list is expansive and includes medicines like painkillers, anesthetics and insulin, 450,000 liters of fuel for heating, baking and energy for water wells, generators, water pipes, equipment for schools, 12,000 containers of baby formula, 1,800 diaper packages, 12 tons of shoes and 55 tons of clothing for cold weather.
In a statement, the IDF explained its two reasons for helping Syria. The first was the obvious "moral imperative." The second was more nuanced. It contended that "the aid will ultimately create a less hostile environment across the border." This security would "lead to improved Israeli security." These two reasons are both compelling arguments for providing aid to Syria.
Operation Good Neighbor becomes more incredible after considering the historical Israeli-Syrian animosity. Currently, Syria and Israel are technically in a state of war. Syrians have historically been taught to resent Israel and vice-versa. But citizens on the ground in Israel and Syria have found ways to look past their history of enmity. In fact, Israeli citizens have been pressuring Israel's government to give more aid to Syria for years.
Syrian victims bear striking resemblance to Jews displaced by tyrannical regimes throughout history. Gadi Eizenkot of the IDF puts it best: "I think this [Operation Good Neighbor] is our basic obligation as neighbors and as Jews."
Being a good neighbor means watching out for everyone around you, even if they don't look like you. It means treating others how you would like to be treated. It means reaching out, with a helping hand, when someone close to you is hurting. With this in mind, it becomes clear that Operation Good Neighbor is aptly named and that the work that it's doing is indispensable.
– Adesuwa Agbonile
Photo: Flickr
https://borgenproject.org/wp-content/uploads/logo.jpg
0
0
Borgen Project
https://borgenproject.org/wp-content/uploads/logo.jpg
Borgen Project
2017-08-20 01:30:39
2020-06-18 08:29:30
Operation Good Neighbor: Syrians and Israelis Together