Note: Online fundraising campaigns must be done via The Borgen Project platform by following the steps below. Third party platforms such as GoFundMe charge high processing fees and the organization does not directly receive the funding. For this reason, fundraising done on outside platforms will not count toward your fundraising total. To receive credit for your great work please follow protocol!
Let's get started! Here is an example of what your final fundraising page will look like: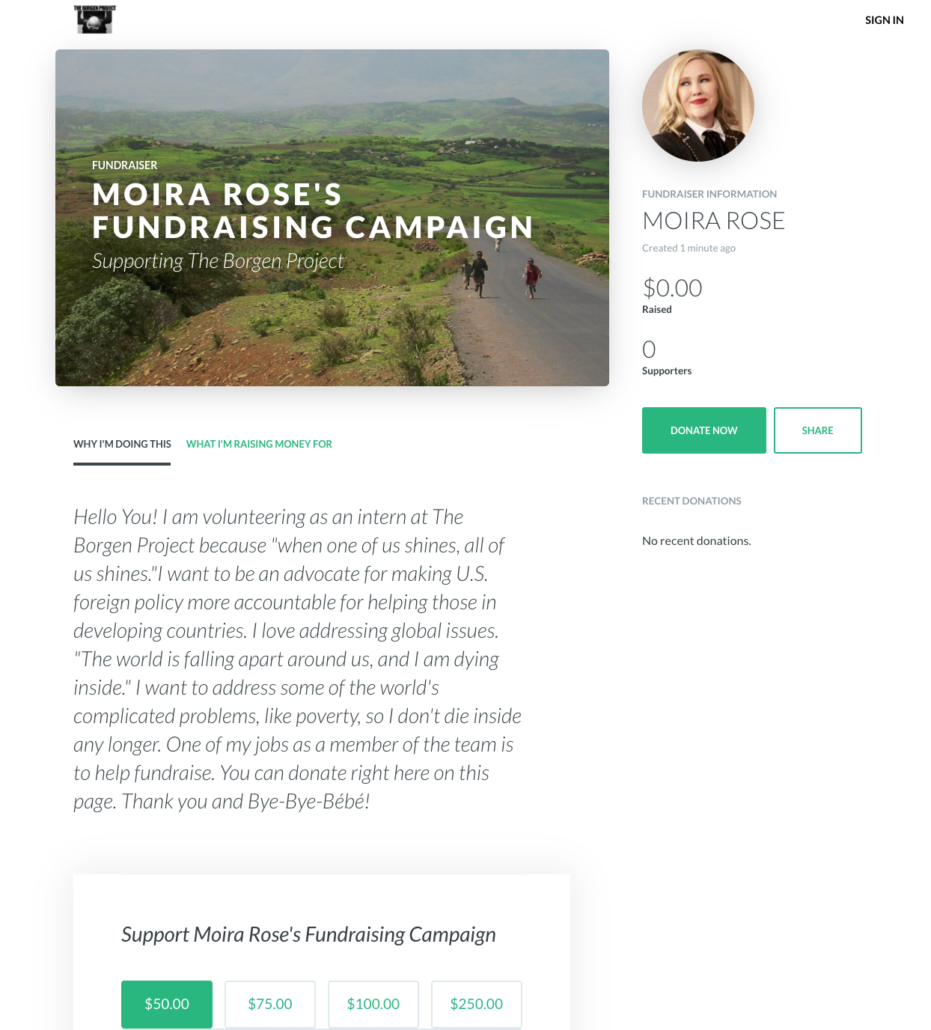 Step 1. Create Your Page
The first step, naturally, is to create your own fundraising page! Please read through the instructions below on how to create the page. 
Here is an example of Moira Rose starting her fundraiser page: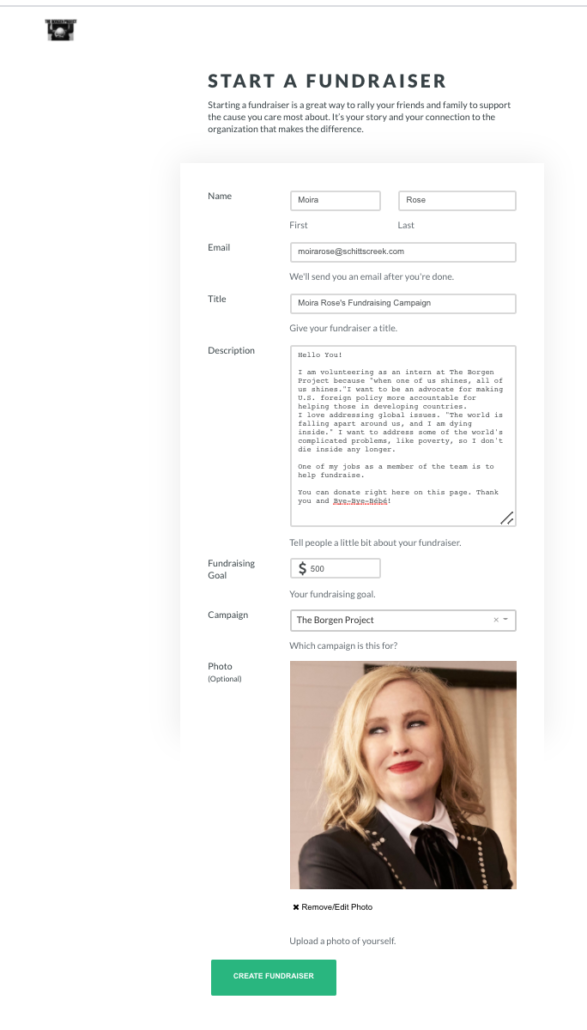 You will need to fill in all of the fields, with the exception of adding a photo. 
1. Your title should be "Your First AND Last Name ('s) Fundraising Campaign". 
Please do not make your title something generic like "global poverty". This is YOUR campaign so be proud and use your first & last name!
2. Write some text about your campaign in the description box.
Please answer the following two questions– you DO NOT need to repeat the questions in your text, just write it like a flowing paragraph.
Why are you volunteering?
Why are you interested in global issues?

Your page will not be formatted with paragraphs or spaces. We encourage you to write only 2-6 sentences about your why! Be creative and also appropriate. Your family, friends and community will read this when they come to your fundraising campaign page. 

You do not need to explain what The Borgen Project does, we have already added that and that will appear on your page too! 

Some examples to guide you:

Moira Rose:

Hello You! I am volunteering as an intern at The Borgen Project because "when one of us shines, all of us shines." I want to be an advocate for making U.S. foreign policy more accountable for helping those in developing countries. I love addressing global issues. "The world is falling apart around us, and I am dying inside." I want to address some of the world's complicated problems, like poverty, so I don't die inside any longer. One of my jobs as a member of the team is to help fundraise. You can donate right here on this page. Thank you and Bye-Bye-Bébé!

John Smith:

I am fundraising for The Borgen Project.

I  believe in addressing global issues like poverty because it is the right thing to do. Seeing the inequities in the American COVID response reaffirmed the need to provide additional support all over the world to combat the pandemic. 
3. Next, create a goal for yourself
You should start at a goal of $500 but feel free to be courageous and make your goal even higher.  
4. Add a Photo!
It is required, so please add a simple photo of yourself! This helps your supporters know they are in the right place when you share this page with them.
*Please note that your photo is quite small and uploaded at lower quality so you should add an up-close photo if possible*
5. Click "Create Fundraiser"
Once you have done this you should be redirected to your new page!
Now, create your own fundraising campaign! Click here to be brought to the form and follow the instructions to make your own.
Step 2: Check Your Email
Once you create your page, our platform will send you an email with the fundraising link, and instructions on how to edit your page if necessary. Look for an email with the subject line "Your fundraiser has been created" from The Borgen Project <[email protected]>.  
Your campaign is ready to go! In your email, you can click the link to go directly to your page or copy that link and share it on social media and with your network. If you need to change your description or goal at any point, please email [email protected] with detailed instructions, and we will fix it for you!
Step 3: Collect Donations!
Share your page on social media or email it to your family and friends!
When a donation has been made on your behalf, the platform will send you an email to let you know who gave and how much they gave, along with your progress towards your goal. The subject of this email will be "You've received a Donation" and it will come from The Borgen Project. 
This email will also provide a link to send an email directly to the donor in order to thank them for their donation.
You can view your donations, any comments made and how close you are to your goal on the right side of your fundraising campaign page.*
*Please note: The total amount raised that appears on your fundraising profile accounts for all donations made through your direct link. Any additional donations made on your behalf through our general Donate page, via check, Venmo, etc. also count towards your fundraising total, but will not appear directly on your fundraising profile. The Donor Relations Team keeps track of all donations made on your behalf.
Happy Fundraising!
https://borgenproject.org/wp-content/uploads/logo.jpg
0
0
Borgen Project
https://borgenproject.org/wp-content/uploads/logo.jpg
Borgen Project
2015-08-06 09:33:09
2021-06-13 00:51:47
Creating Your Online Fundraising Campaign