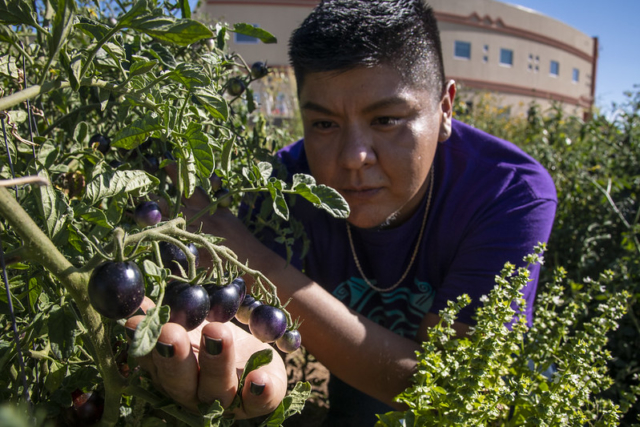 Food insecurity is abundant on Native American reservations, with the lack of grocery stores and affordable fresh foods leading to high rates of diabetes, heart disease and obesity. As of 2018, a quarter of Native Americans lacked access to nutritious foods. When COVID-19 hit, the more than two-hour round trips to get food were often fruitless, as panic-induced buying emptied store shelves. Some tribes are now taking matters into their own hands. Today, solutions to the problem are starting to emerge with a variety of tribal and intertribal efforts exploring food sovereignty.
The Structure of Reservations
Federal government mismanagement of native lands is a major underlying cause of food insecurity. Through the federal trust doctrine, the U.S. government owns and manages native lands and assets. This means that reservation residents are not usually the owners of homes. This makes it impossible to mortgage property to start a business on a reservation. Federal land ownership hinders harnessing natural resources and developing the land. On-reservation development projects must go through 49 steps, spread across four government agencies before approval. In contrast, off-reservation projects require only four steps and this difference extends wait time from a couple of months to years.
These factors, in addition to low population density and poverty, cause companies to avoid investing in reservations. Tribal leaders or entrepreneurs are able to start farms. However, the leaders often lack the complementary infrastructures needed to get their products on grocery store shelves. As such, produce and meats often leave the reservation for services such as grading, freezing and packaging. By the time the products make it back to the reservation, the produce is less fresh and marked-up due to travel.
The Disruption of Traditional Diets
The lack of infrastructure and government restrictions on hunting and gathering create food insecurity on many reservations. The Pine Ridge Reservation imports 95% of foods and everyday necessities while the Menominee Reservation, the largest reservation east of the Mississippi River, has only one grocery store.
Due to the situation, some families' only option is to seek government assistance. In 2015, 24% of Native families participated in the SNAP program, formerly known as the Food Stamps Program. This is almost twice as much involvement as that of the general population. Furthermore, nearly a fifth of all Native children participated in the United States Department of Agriculture's (USDA) free or reduced school lunches at the same time.
These programs, while important to feeding the hungry, do not conform with traditional diets. In 2014, the USDA's Food Distribution Program on Indian Reservations only allocated roughly $1 per meal. These meals are high in processed sugars and carbohydrates and lacking in fresh produce. This leads to high rates of health problems on reservations. For example, 42% of Native Americans struggle with obesity, and 20% of Navajo adults have diabetes, the third-highest rate in the world, below only Nauru and Mauritius.
Reclaiming Traditional Diets
In 2018, the Menominee Tribe of Wisconsin established the Department of Agriculture and Food Systems (DAFS). Embracing their traditional culture and diets, the Menominee move toward food sovereignty by hunting, fishing, gathering, tree tapping and farming.
DAFS Director Gary Besaw told The Borgen Project that the Menominee Tribe has a long history of agriculture. Archaeological evidence shows that the Menominee gardened through the last ice age. To do so, the Menominee used advanced techniques like raised-bed farming and biochar to improve soil quality. The tribe has reclaimed producing squash, maple syrup and corn, with hopes of growing orchards in the near future.
Nature and Intertribal Efforts
Prior to reservation life, the Menominee had access to fishing over much of the Great Lakes and their river systems. The current location of the Menominee Tribe's reservation lacks this access. This makes it difficult to obtain enough fish without depleting the local resources.
Besaw stressed the importance of intertribal commerce and collaboration since each Tribal Nation has access to different food and lands. Besaw informed The Borgen Project that "re-establishing intertribal trade and commerce allows not only for economic growth in a sustainable green industry but also allows us to obtain healthy traditional foods." Both products and skills move between tribes. The Menominee work with neighboring tribes and organic farms to grow food, manually dealing with weeds, pests and invasive species.
One of the Menominee Tribe's partners, the Oneida Tribe of Wisconsin, worked with the Intertribal Agriculture Council to form the Mobile Farmer's Market. This organization connects Native Americans across the United States with produce grown and harvested by Native Americans. Additionally, the Mobile Farmer's Market hosts workshops to facilitate the spread of traditional skills.
In February 2019, a workshop occurred on the Menominee Reservation, teaching farming, seed keeping and healthy diets. According to Besaw, Menominee County has the highest rate of diabetes and heart disease in Wisconsin. The move toward food sovereignty and traditional diets has had a positive impact on the community's health. To supplement these healthier diets, the Menominee Tribe is also conducting early-stage diagnosis and tracing family trees to see who has a genetic predisposition to diabetes.
Food Insecurity and COVID-19
According to Besaw, the COVID-19 pandemic illuminated the level of dependency that his tribe has on the federal government for food. The food boxes that the USDA provided were a lifesaver, though sometimes compromising his tribe's goal of growing food indigenously, without GMOs and pesticides.
Across the country, many tribes have realized this as well. In Minnesota, the Dream of Wild Health intertribal nonprofit organization is working to distribute food to food-insecure Native Americans living in the Twin Cities. The organization owns a 30-acre pollinator farm outside of the Twin Cities and produces pesticide- and GMO-free produce.
Throughout the Dream of Wild Health's history, the organization has received heirloom seeds from around North America. In 2019, it started to identify the seeds and return them to its community of origin, benefitting in-state and out-of-state tribes. According to another seed-saving organization, Indigenous Seed Keepers Network, the demand for seeds has increased around 4,900% during COVID-19, as Native Americans strive toward food sovereignty during these challenging times.
With many tribes and intertribal organizations around to help Native Americans attain food sovereignty, prospects are growing across North America. Not only are traditions returning but traditions are also making their way between and outside of tribes. As these efforts continue with success, it is time the U.S. government steps up to give tribes the support they need in a way that will not jeopardize their health further.
– Riley Behlke
Photo: Flickr
https://borgenproject.org/wp-content/uploads/logo.jpg
0
0
Evan Winslow
https://borgenproject.org/wp-content/uploads/logo.jpg
Evan Winslow
2021-07-29 07:15:05
2021-07-29 23:45:59
Food Sovereignty Efforts Among Native Americans