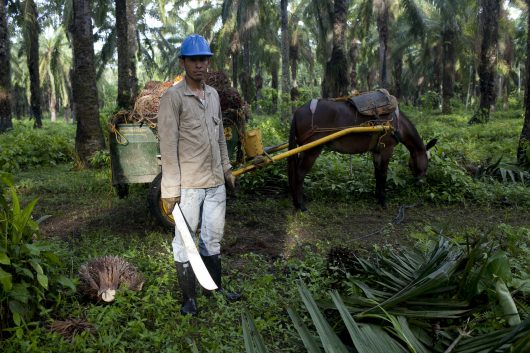 With notoriety for being one of six leading oil producing countries in Africa, Gabon embarked on a new project — developing palm tree oil plantations aimed at reducing the poverty gap and encouraging sustainable development.
Since 2013, Gabon has been facing a decline in its oil reserves. The government committed up to one million hectares of sustainable land to appeal to investors in agricultural development and spawn economic diversification.
Collaboration With Olam Palm Gabon
Olam Palm Gabon, Singapore's Olam International Ltd and Gabonese government-owned company made an agreement with the government of the Republic of Gabon to utilize 50,000 hectares of land for palm plantation.
The development of palm tree oil plantations will enable the country to diversify its dependency on oil and instead invest in a more lucrative and long-term venture. Palm oil trees can produce fruit for more than 30 years with a plant yield far more advantageous than any major oilseed crop.
Sustained Economic Livelihood
Gabon has a population of 1.9 million, the highest urbanization quota in Africa with more than four in five Gabonese citizens residing in the metropolitan area. With an additional unemployment rate of 20%, partnership with Olam to build plantations will generate a revenue of $400 million and up to 5,000 new jobs.
Planting began in 2011; currently, 31,000 hectares exist. Upon complete production, the plantation is expected to yield 24 metric tons of fruit bunches per hectare and 5.2 metric tons of oil per hectare. The total estimated investment in phase one development of plantations, palm oil mills and related assets was $500 million.
Six thousand five hundred and two hectares have been sold and leased for $130 million. This proves Gabon's ability to support innovative financial structures designed for the growth of the palm oil sector.
Job and Investment Opportunities
Experts believe that investment in the palm tree oil plantations in Gabon and the rest of Africa is thriving and will create local jobs and guarantee the stability of the local economy. Ali Bongo Ondimba, the head of State, commissioned on Sept. 16 the new production site of sustainable palm oil of Olam, in Kango, in the Estuaire province. Eight hundred jobs have been created in this location, with an inevitable 120 contracts planned. Social contracts signed by Olam ensure small farmers are key sellers in the project with a mutual benefit of electricity, road repair and water supplies.
Falling oil prices in Gabon have had the most severe effect on the country's poor. The project also entails support of local community farming around Kango with the construction of 400 accommodations and social infrastructures.
"In Sub-Saharan Africa, many countries rely on extractive industries for revenues, but extractive industries don't create a lot of jobs, and so countries are beginning to invest more in agriculture as a means of job creation," said Gagan Gupta, chief executive at Olam Gabon Enterprise. "To succeed, however, agriculture projects must take into account, and invest in, local communities."
Given the attention Gabon has received for their actions, it is hopeful that such efforts will continue to yield fruitful results encompassing economic growth.
– Shanique Wright
Photo: Flickr
https://borgenproject.org/wp-content/uploads/logo.jpg
0
0
Borgen Project
https://borgenproject.org/wp-content/uploads/logo.jpg
Borgen Project
2016-11-07 01:30:22
2020-06-08 14:19:27
Palm Tree Oil Plantations in Gabon Create Rural Jobs